Every casual get-together should have a cheese ball! I'm not referring to the awkward guest. Cheese ball recipes make for perfect appetizers.
CHEESE BALL RECIPES FOR ANY PARTY PLATTER
Have you ever been tasked with bringing an appetizer to a party and had no clue what to bring? Maybe the best you could come up with was a bag of tortilla chips and a jar of uninspiring salsa? Well, I certainly have. These cheese ball recipes are perfect for almost any festive gathering. They are easy to make, and very tasty. You can dress them up or down depending on the crackers or veggies you provide for scooping. Break out the party platter and reach for the good crackers, and let's go wow the crowd!
A cranberry pecan cheese ball is a great starter for a festive gathering. Serve the soft, creamy, salty, and sweet cheeseball with crackers.
An easy appetizer to include at your holiday gathering is an onion cheese ball. It's quite simple to make this cheese ball at home with only 5 ingredients! The Cheese Ball is a show-stopping appetizer when paired with a crispy crackers.
Quick and simple gluten-free party food. White cheddar, cream cheese, parsley, garlic, rosemary, and toasted nuts are all used to make the Craisins Cheddar Cheese Ball.
It's hard to top this pistachio goat cheese ball! Tangy goat cheese mixed with sweet dried fruit, fresh herbs, & coated in pistachios.
Next time you're throwing a gathering, give this pepperoni cheese ball a try. It is tasty and ideal for any occasion, including game day.
Chipped beef cheese balls are a standard dish at holiday gatherings. This recipe for cheese balls with dried meat is a hit with most everyone.
Everyone will enjoy this chocolate chip cheese ball for dessert! Cream cheese and chocolate chips are used to make an easy dessert cheese ball.
Festive feasts are doable while adhering to a low-carb diet. This Jalapeño Popper Cheese Ball Recipe makes for a great low-carb appetizer.
The three distinct cheeses, shredded chicken, and buffalo sauce in this Buffalo Chicken Cheese Ball will satisfy every taste preference during your upcoming sporting event.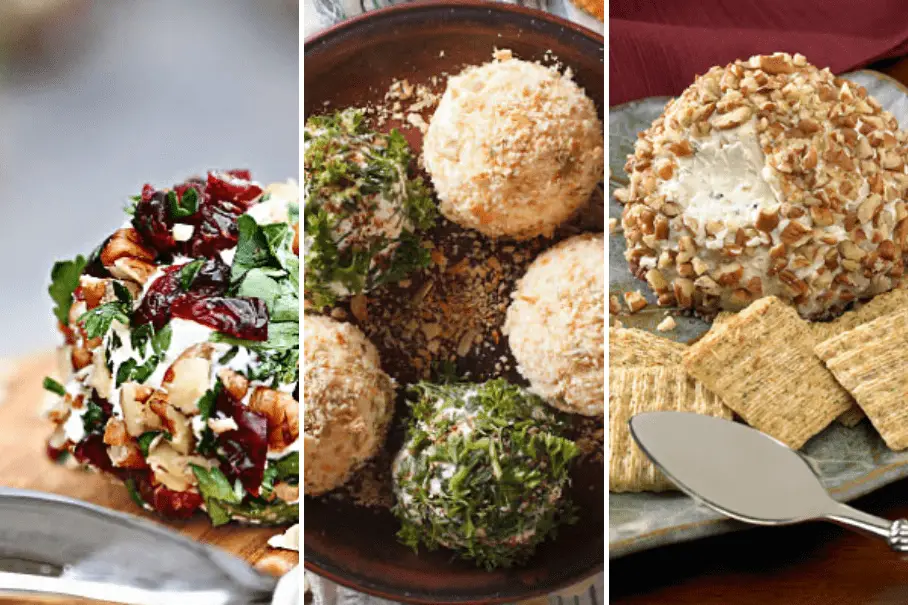 Instructions
Choose your favorite cheese ball recipe.

Gather all the necessary ingredients.

Prepare a delightful cheese ball recipe and enjoy!