This is by far one of the easiest ways to make a quick bowl of guacamole. This recipe only takes a couple of minutes and is perfect for summer parties.
One of my favorite things to do during the summer is to sit on a patio somewhere while watching the sun setting, and snacking on a fresh bowl of guacamole and salty tortilla chips. Paired with a chilled beverage, and the sound of waves and the evening is off to a great start! 
This easy guacamole recipe can be prepared in just a couple minutes and utilizes only a few basic ingredients.
Guacamole is an avocado-based dip that was originally developed in Mexico. So, needless to say, it is flavorful, wonderful, and a good source of healthy fats.
WHAT DOES GUACAMOLE TASTE LIKE?
This easy guacamole recipe tastes like a lot of the guac that you have had at your favorite Mexican restaurants. Because this recipe also incorporates some salsa, it has a little bit of spiciness to it, so it is not overly bland.
HOW TO MAKE THIS EASY GUACAMOLE RECIPE
1. The first thing you need to do is get your hands on 4 ripe avocados. 
2. Slice the avocados in half and remove the pit. 
3. Scoop the avocado pulp out and place it in a bowl. 
4. Using a fork, mash the avocado into a chunky paste. 
5. Add salsa, salt, and lemon juice and mix thoroughly. 
6. Enjoy. 
WHAT CAN I DO IF MY GUACAMOLE IS TOO RUNNY?
If your guacamole turns out to be too runny, then you can add another avocado to thicken it up. Because some salsas tend to be on the runny side, it is best to add the salsa in batches in order to reach the desired consistency. Once you find a salsa that you enjoy mixing into guacamole, then feel free to add it all at once. 
IS GUACAMOLE CONSIDERED KETO?
Good news, if you are sticking to a keto lifestyle, this guacamole recipe will keep you on track. It is low in net carbs and packs a good dose of healthy fats. However, if you are counting carbs, then you may want to pass on the tortilla chips that are usually served with guacamole and enjoy it on a salad or with fresh sliced vegetables.
CAN YOU MAKE GUACAMOLE AHEAD OF TIME?
Guacamole is best when served very fresh. Because avocados tend to brown shortly after sliced, your dip could look less appealing, but still taste great. In other words, if you are bringing guacamole to a party, or serving it at a potluck, it is best to bring it in an airtight container and keep sealed until shortly before serving.
CAN YOU FREEZE GUACAMOLE?
The fresher the guacamole the better, so in other words, though it is technically edible, the consistency would not be the same as a just-made batch.
WHAT TO SERVE WITH GUACAMOLE?
The best way to serve guacamole, in my opinion, is with tortilla chips. Preferably select a brand that can stand up to the weight of the guacamole, and will not break too easily while dipping. Other ways to serve guacamole are:
Guacamole on toast
Use guacamole as a spread on sandwiches instead of mayonnaise
WHAT KITCHEN TOOLS DO I NEED TO MAKE GUACAMOLE?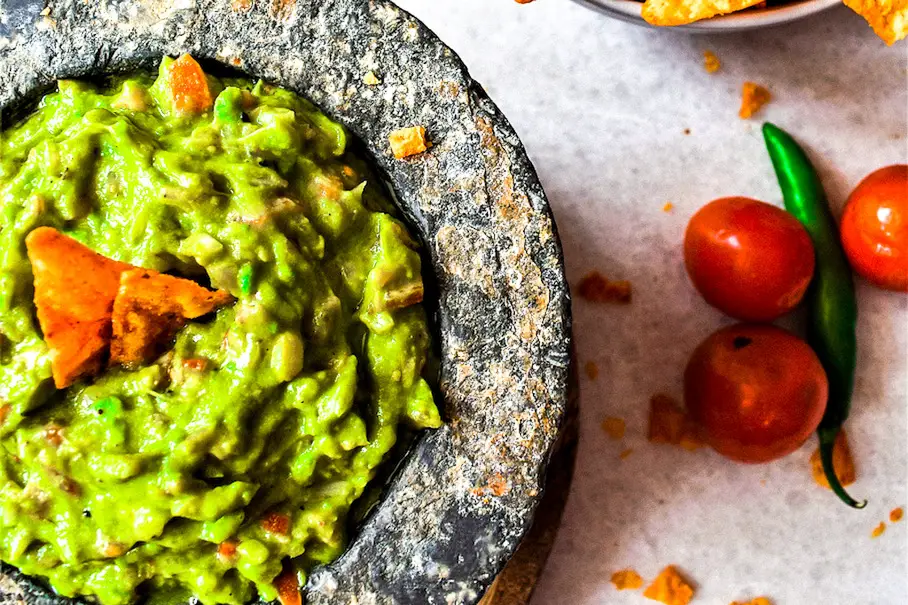 Instructions
1. Slice avocados in half, discard the seed and place the pulp in a bowl.

2. Using a fork, mash the avocado pulp into a chunky paste.

3. Add salsa, salt, and lemon juice and stir with a fork until desired consistency is reached.
Nutrition
Oh, before I forget! House Hunk's posts may include affiliate links leading you to some pretty awesome products. If you buy something through those links, you will not pay any more than if you stumbled upon the product yourself, however we may earn a small commission from your purchase, which helps keeps the lights on.