Discover a collection of homemade syrup recipes that will take your culinary creations to the next level. From classic flavors to unique twists, elevate your dishes with these delightful concoctions.
SERIOUSLY TASTY SYRUP RECIPES
Today, I am beyond excited to share with you a collection of homemade syrup recipes that will awaken your taste buds and elevate your culinary creations. From rich and buttery delights to tangy and refreshing concoctions, these syrups are the secret ingredient that will make your dishes shine. Get ready to embark on a flavor adventure as we dive into the world of homemade syrups, where creativity knows no bounds.
Elevate your culinary creations with homemade Orange Simple Syrup (Blood Orange Syrup). In just 10 minutes, using only 2 ingredients, you can whip up this versatile syrup that adds a burst of citrusy goodness to cakes and cocktails alike.
When your pantry lacks maple or pancake syrup, fear not! Indulge in the velvety richness of Brown Sugar Homemade Pancake Syrup. This delectable syrup, with its smooth texture and deep flavor, is a delightful alternative that will elevate your pancakes to new heights.
Treat yourself to the lusciousness of Buttermilk Syrup—a velvety concoction that marries brown sugar, butter, and buttermilk into a caramel-like creation. This creamy syrup will transport your taste buds to a realm of indulgence with every drizzle.
Prepare to be amazed by the superior taste of Vanilla Butter Syrup, surpassing any store-bought counterpart. Crafted with butter, brown sugar, half & half, honey, and vanilla extract, this homemade delicacy boasts an irresistible buttery essence that will take your culinary creations to the next level.
Unlock the secret to cleaner iced coffee drinks with this DIY Coconut Sugar Simple Syrup recipe. Embrace the natural sweetness of coconut sugar as you learn to create your very own homemade simple syrup, perfect for enhancing the flavors of your refreshing beverages.
Bid farewell to store-bought maple syrup and discover the joy of making your own. With only 4 ingredients, this homemade maple syrup reigns supreme, offering a superior taste that complements pancakes and waffles to perfection.
Experience the epitome of homemade syrup bliss with Blonde Butter Syrup. Within a blink of an eye, this rich, creamy, and buttery syrup can be yours to savor, boasting a tantalizing flavor profile that will leave you craving more.
Indulge in the divine Dutch honey, a quick and easy homemade syrup that elevates pancakes, waffles, French toast, biscuits, and even vanilla ice cream to new heights of decadence. Allow this velvety creation to envelop your favorite dishes with its sweet embrace.
Unleash the captivating aroma of rose petals in a delightful homemade rose syrup. Discover the tips and tricks you need to create this aromatic elixir, which will infuse your culinary creations with a touch of floral elegance.
Elevate your breakfast routine with the easiest Strawberry Syrup you'll ever make. With just 5 ingredients, this delectable syrup will become a beloved staple, perfect for adorning pancakes, waffles, and more, and adding a burst of fruity goodness to your morning meal.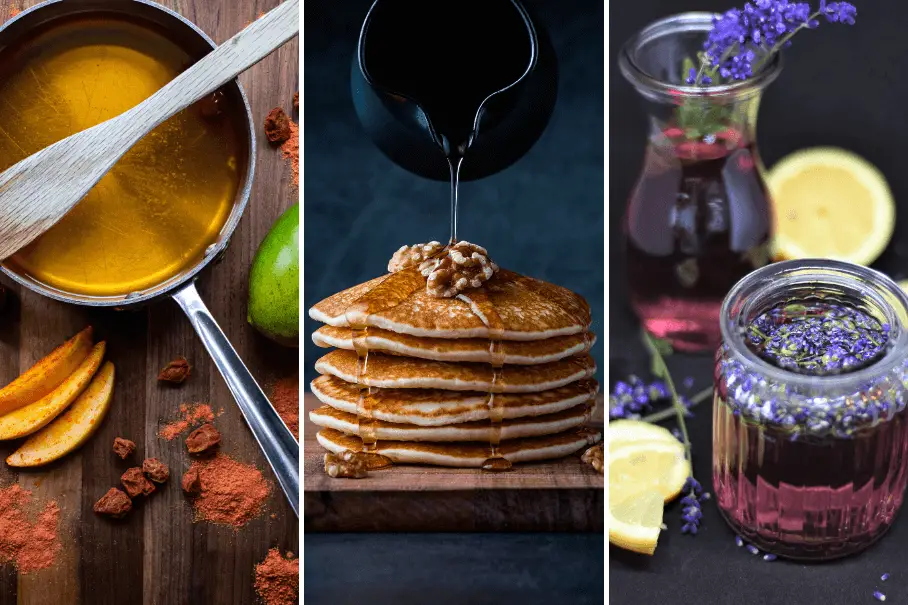 Instructions
Choose your preferred syrup recipe.

Gather all the necessary ingredients.

Prepare a delightful syrup recipe using simple steps.