Discover 24 healthy pancake recipes including gluten-free, vegan, keto, and protein-packed options. Perfect for a nutritious breakfast!
HIT THE GROUND RUNNING WITH THESE HEALTHY PANCAKES
Hey there, breakfast enthusiasts! As a breakfast lover, I am always on the lookout for ways to indulge without feeling like garbage for the rest of the day. Whether you're gluten-free, vegan, or simply looking for a delicious and nutritious breakfast, these healthy pancake recipes are guaranteed to satisfy your cravings. From fluffy pumpkin pancakes to low-carb bacon pancakes, this lineup has something for everyone. That is of course, if everyone like pancakes, if not, oh well. So, grab your whisk and get ready to whip up a stack of wholesome pancakes that will fuel your day with energy and flavor!
Looking for a gluten-free and vegan pancake recipe that's easy to make and turns out perfectly every time? Try this simple pancake mix that's light, fluffy and free from dairy, gluten and animal products. It's perfect for anyone with dietary restrictions or who wants to eat a little healthier.
Rise and shine with these scrumptious Lemon Ricotta Pancakes! Made from scratch, these pancakes are light, fluffy and bursting with zesty lemon flavor. And the best part? You can freeze them for later, making them the ultimate breakfast or brunch staple.
Need a quick and healthy breakfast option that's filling and delicious? Try these flourless and sugar-free banana oat pancakes! With fresh fruit on top, they're the perfect way to start your day, and they take just minutes to make.
Vegan pancakes that are fluffy and delicious, made with only six simple pantry staples? Yes, please! Whip up a batch in just one bowl, and enjoy a tasty and nutritious breakfast that's also easy on the wallet.
For a gluten-free pancake option that's light, fluffy and oh-so-delicious, try these buckwheat pancakes made with 100% buckwheat flour. Easy to make and perfect for anyone with gluten sensitivities, they're a breakfast treat that everyone can enjoy.
Looking for a quick and savory snack or light vegan meal? Try these Korean hobak buchim pancakes, made with summer zucchini and bursting with flavor. They're easy to make and perfect for a healthy and satisfying snack on the go.
These gluten-free and healthy apple pancakes are perfect for kids and adults alike! Made with oats, applesauce, maple syrup and cinnamon, they're packed with nutrition and flavor, and are sure to become a family favorite.
Indulge in these almond blueberry pancakes that are extra fluffy, thanks to the addition of Greek yogurt. With no oil added, they're a healthier pancake choice that's perfect for a weekend brunch or weekday breakfast.
For a pancake option that's high in fiber and protein, try these chia flax oat flour pancakes. Fluffy, delicious and packed with nutrition, they're a great breakfast option for anyone looking to start their day off right.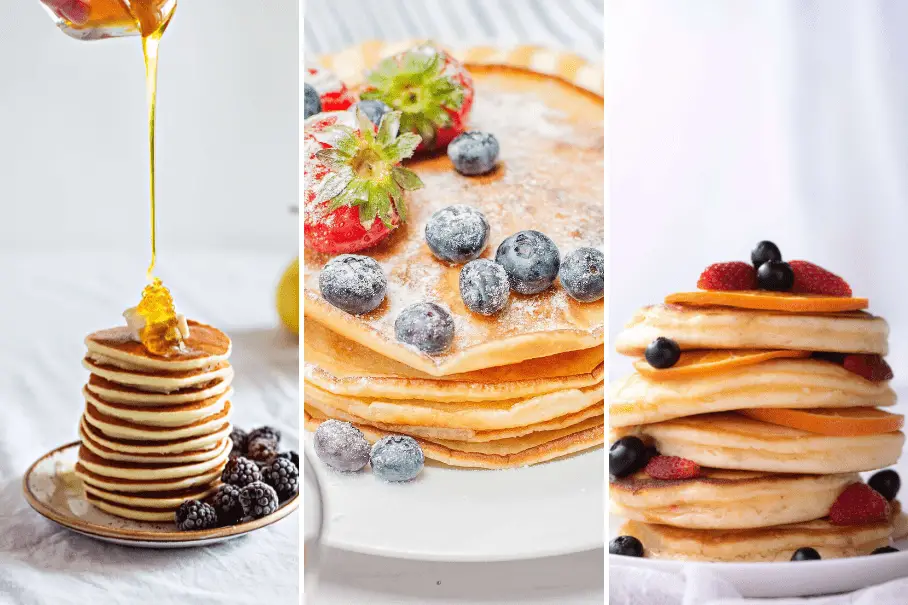 Instructions
Choose your favorite pancake recipe.

Gather all the necessary ingredients.

Prepare a delightful pancake recipe and enjoy!