Dive into a world of diverse and delectable Chinese recipes that will tantalize your taste buds.
THE BEST HOMEMADE CHINESE RECIPES
Chinese cuisine is one of the most popular and diverse in the world. It offers a wide range of flavors, ingredients, and techniques that can suit any taste and occasion. Whether you're looking for a quick and easy meal, a hearty and comforting soup, a crunchy and refreshing salad, or a sweet and satisfying dessert, you'll find plenty of recipes to enjoy in this list. From chop suey to cashew chicken, from dan dan noodles to peanut noodles, from spring rolls to steamed buns, and more, these Chinese recipes are simple to make at home with common ingredients and minimal fuss. You'll love the combination of savory, spicy, sweet, and sour tastes that make Chinese cuisine so unique and satisfying. So grab your chopsticks and get ready to feast on these mouthwatering dishes. These are the best Chinese recipes you need to try.
Chicken chop suey is a classic Chinese-American dish that's easy to make at home. You'll love the tender chicken, crisp vegetables, and savory sauce that coats every bite. Serve it over rice or noodles for a satisfying meal that's ready in 30 minutes.
Nothing beats a warm bowl of Chinese noodle soup on a chilly day. This recipe shows you how to make a flavorful broth with chicken, ginger, garlic, and soy sauce. Then, you can customize it with your favorite noodles and toppings, such as bok choy, mushrooms, or scallions.
Cashew chicken is a popular takeout dish that you can recreate in your own kitchen. It's made with juicy chicken pieces, crunchy cashews, and a sweet and tangy sauce. It's simple to whip up and tastes great with steamed rice or quinoa3.
Chinese broccoli with oyster sauce is a delicious side dish that goes well with any Asian meal. It's also very healthy, as Chinese broccoli is rich in vitamin C, iron, and calcium. The oyster sauce adds a savory depth of flavor that complements the crisp and tender greens.
Dan dan noodles are a spicy and satisfying Sichuan dish that will make your taste buds tingle. They are tossed with a fiery sauce made from chili oil, sesame paste, vinegar, and soy sauce. Then, they are topped with minced pork, peanuts, and scallions for extra texture and flavor.
Crisp, refreshing, and tangy, Chinese cucumber salad is a perfect side dish for any Asian meal. It's also super easy to make, with just a few ingredients and a simple dressing1. You can adjust the spiciness and sweetness to your liking.
Chow mein is a classic Chinese noodle dish that's loaded with vegetables, protein, and flavor. You can make it in one skillet in less than 30 minutes, using pantry staples and fresh produce. It's a great way to use up any leftover meat or veggies you have in your fridge.
Lo mein is a delicious and satisfying noodle dish that you can customize with whatever you have on hand. It's made with soft noodles, crunchy veggies, and a savory sauce that coats every strand. It's vegan, gluten-free, and ready in 15 minutes.
Homemade spring rolls are a fun and tasty appetizer or snack that you can make at home. They are filled with fresh vegetables, herbs, and noodles, and wrapped in rice paper. You can dip them in a sweet and tangy sauce for extra flavor.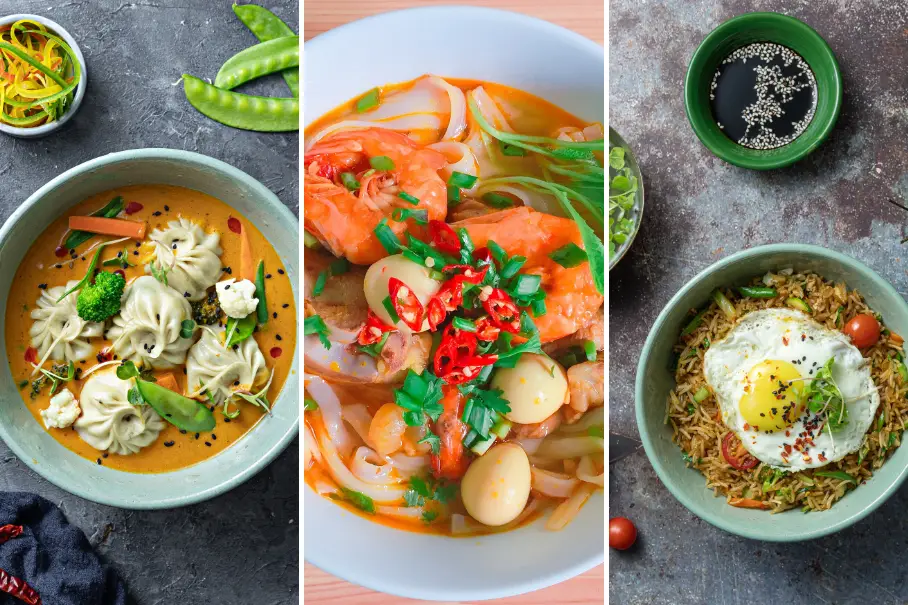 Instructions
Select your favorite Chinese recipe.

Gather all necessary ingredients.

Create a tasty Chinese dish using simple steps and enjoy!