Explore a world of flavor with these 20 vibrant and delicious Chinese salad recipes.
LOAD UP ON NUTRITIOUS FLAVOR WITH THESE CHINESE SALADS
If you're looking for some fresh and flavorful ways to enjoy Chinese cuisine, you'll love these 20 Chinese salad recipes. They are easy to make, packed with crunchy vegetables, tender noodles, and succulent meats, and dressed with delicious sauces and dressings. Whether you want a light and refreshing side dish or a satisfying main course, these salads will satisfy your cravings and keep you healthy. Here are some of the best Chinese salad recipes you can try at home.
Crunchy, tangy, and slightly sweet, this Asian cabbage salad is a great way to use up leftover chicken or turkey. It's tossed with a creamy almond butter dressing that's spiced with ginger and garlic. You'll love the contrast of textures and flavors in this satisfying salad.
This Chinese napa cabbage salad is a refreshing and easy side dish that goes well with any Asian meal. It's made with shredded napa cabbage, carrots, green onions, and cilantro, and topped with crunchy ramen noodles and almonds. The dressing is a simple mix of oil, vinegar, sugar, and soy sauce that adds a burst of flavor.
For a hearty and flavorful main course salad, try this Asian chicken salad with a spicy peanut dressing. It's loaded with tender chicken, crisp lettuce, shredded cabbage, carrots, edamame, and peanuts. The dressing is a creamy blend of peanut butter, lime juice, honey, soy sauce, and sriracha that gives this salad a kick.
If you're looking for a vegan and gluten-free salad that's packed with protein and fiber, look no further than this Asian chickpea salad. It's made with cooked chickpeas, red cabbage, carrots, cucumber, and fresh herbs, and tossed with a zesty sesame dressing. It's a delicious and filling salad that you can enjoy as a meal or a snack.
This easy Chinese cucumber salad is a classic appetizer that's ready in minutes. It's made with thinly sliced cucumbers that are smashed to release their juices and flavor. The cucumbers are then marinated in a simple dressing of vinegar, sugar, salt, garlic, and sesame oil. It's a light and refreshing salad that's perfect for summer.
Wood ear mushroom salad is a traditional Chinese dish that showcases the unique texture and flavor of these edible fungi. Wood ear mushrooms are soaked, sliced, and boiled until tender and crunchy. They're then mixed with carrots, cilantro, garlic, vinegar, soy sauce, sugar, and chili oil for a spicy and tangy salad.
Mung bean jelly is a cold and slippery dish that's popular in Sichuan cuisine. It's made with mung bean starch that's cooked into a jelly-like consistency and cut into thin strips. The jelly is then seasoned with a savory sauce of soy sauce, vinegar, garlic, sesame oil, and Sichuan peppercorns. It's a refreshing and appetizing salad that's great for hot days.
Chinese eggplant salad is a simple but flavorful dish that showcases the tender and smoky taste of grilled eggplants. The eggplants are charred on the stove or in the oven until soft and blistered. They're then peeled and chopped into bite-sized pieces and tossed with a dressing of vinegar, sugar, soy sauce, garlic, and scallions.
Sesame ginger noodle salad with cashews is a cold noodle dish that's full of crunch and flavor. It's made with rice noodles that are cooked until al dente and rinsed under cold water. The noodles are then mixed with shredded carrots, red cabbage, green onions, cilantro, cashews, and sesame seeds. The dressing is a zippy combination of sesame oil, rice vinegar, honey, ginger, garlic, and red pepper flakes.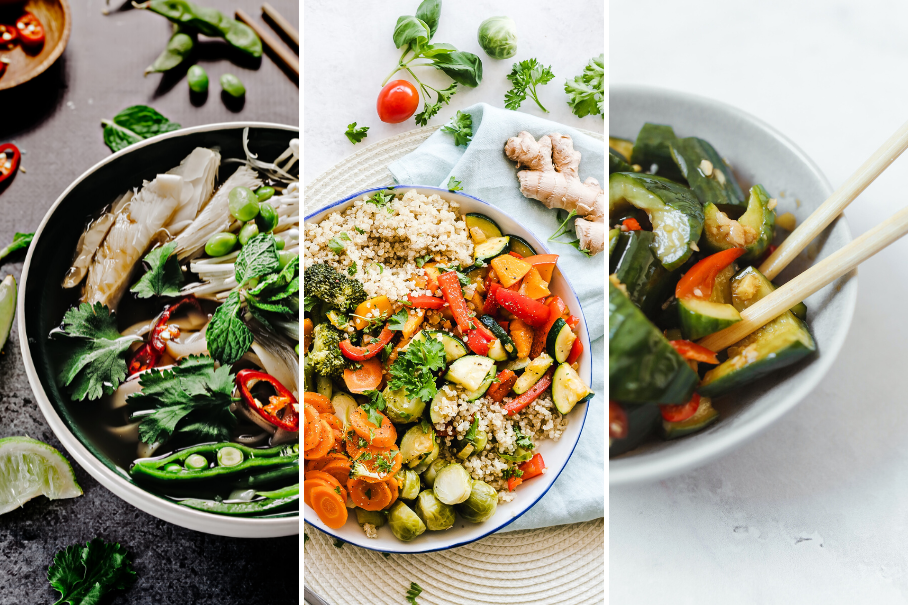 Instructions
Select your favorite Chinese salad recipe.

Gather all necessary ingredients.

Create a tasty Chinese salad using simple steps and enjoy!