Elevate your chicken game with 10 mouthwatering marinades. From spicy to sweet, transform your dishes! Dinner is served!
THE BEST MARINADES FOR CHICKEN
Chicken is one of the most versatile and delicious proteins you can cook with. But sometimes, it can get boring and bland if you don't spice it up with some flavor. That's why we've rounded up 10 amazing chicken marinades that will transform your chicken from ordinary to extraordinary. Whether you're looking for something spicy, tangy, sweet, or savory, we've got you covered. These chicken marinades are easy to make, use simple ingredients, and can be used for grilling, baking, or frying. Plus, they are perfect for meal prep and freezer-friendly. So grab your chicken and get ready to marinate with these 10 mouthwatering recipes.
Spice up your game day with these chili garlic chicken wings. They are crispy, sticky, and packed with flavor. You only need a few ingredients and an oven to make them. Serve them with your favorite dipping sauce and enjoy.
For a simple and delicious weeknight meal, try this Italian marinated chicken. It's juicy, tender, and full of herbs and garlic. You can marinate it ahead of time and cook it in a skillet or on the grill. Pair it with some roasted veggies or a salad for a balanced dinner.
Cilantro lime chicken thighs are a zesty and refreshing dish that will brighten up your palate. The chicken is marinated in a tangy mixture of lime juice, cilantro, honey, and spices, then baked until golden and succulent. This recipe is easy to make and perfect for spring and summer.
Tandoori chicken is a classic Indian dish that features yogurt-marinated chicken cooked in a clay oven called a tandoor. But you don't need a tandoor to make this recipe at home. You can use your oven or grill to get the same smoky and charred effect. The chicken is flavored with a blend of spices, such as turmeric, paprika, garam masala, and ginger.
Teriyaki chicken is a popular Japanese dish that consists of grilled or broiled chicken glazed with a sweet and savory sauce. This recipe shows you how to make your own teriyaki sauce from scratch, using soy sauce, brown sugar, honey, ginger, and garlic. The sauce is thickened with cornstarch and poured over the chicken for a sticky and delicious finish.
Honey mustard chicken is a family-friendly dish that everyone will love. It's made with chicken breasts coated in a creamy sauce of honey, mustard, garlic, and rosemary. The chicken is baked in the oven until tender and juicy, then topped with some fresh parsley for a pop of color. Serve it with some rice or mashed potatoes for a cozy and comforting meal.
Balsamic chicken is a quick and easy dish that you can whip up in less than 30 minutes. It's made with chicken breasts simmered in a rich sauce of balsamic vinegar, honey, garlic, and thyme. The sauce reduces to a thick and glossy consistency that coats the chicken beautifully. This dish is low-carb, gluten-free, and keto-friendly.
Grilled pineapple chicken is a tropical treat that will transport you to an island paradise. It's made with chicken thighs marinated in a sweet and spicy mixture of pineapple juice, coconut aminos, ginger, and red pepper flakes. The chicken is grilled until charred and juicy, then topped with some fresh pineapple chunks for extra sweetness.
Jerk chicken is a spicy and flavorful dish that originates from Jamaica. It's made with chicken marinated in a fiery blend of Scotch bonnet peppers, allspice, thyme, nutmeg, and other seasonings. The chicken is traditionally smoked over pimento wood, but you can also cook it in the oven or on the grill.
Greek chicken is a Mediterranean-inspired dish that features chicken marinated in a lemony mixture of olive oil, oregano, garlic, and yogurt. The yogurt helps tenderize the chicken and adds a tangy flavor. You can cook the chicken in a skillet or on the grill, then serve it with some tzatziki sauce, cucumber salad, or pita bread.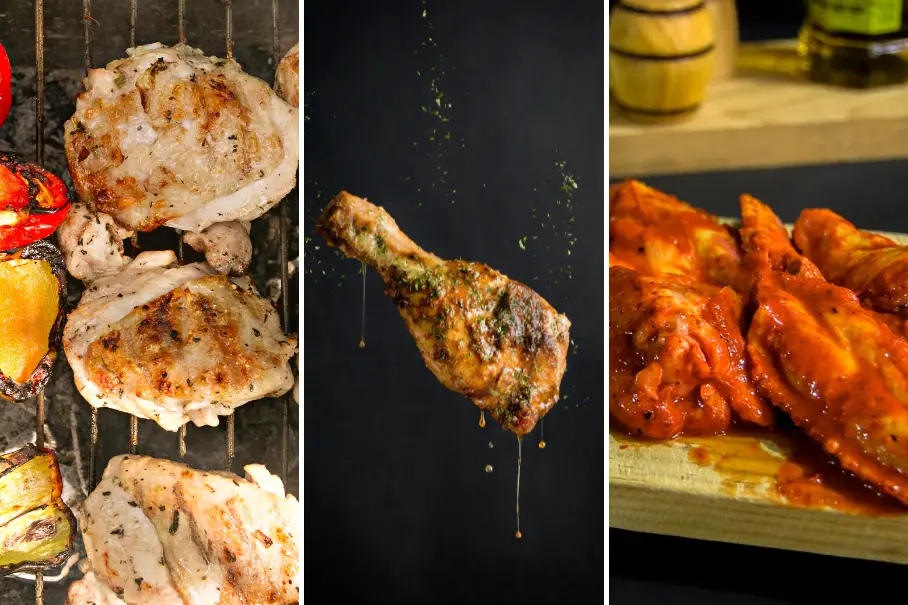 Instructions
Select your favorite chicken marinade recipe.

Gather all necessary ingredients.

Create a tasty chicken marinade using simple steps and enjoy!