Explore 12 delectable chocolate snack recipes for moments of sweet indulgence. Quick, easy, and sure to satisfy your cravings.
QUASH CRAVINGS WITH THESE EPIC CHOCOLATE SNACKS
Chocolate snacks are the perfect way to satisfy your sweet tooth and enjoy a moment of indulgence. Whether you need a quick bite, a party treat, or a cozy dessert, you'll find a recipe that will make you happy in this list. I've collected 12 of the best chocolate snacks from some of my favorite food blogs. You'll find easy and delicious recipes that feature chocolate in different forms and flavors. From grilled s'mores sandwich and chocolate peanut butter grahams to homemade junior mints and thin mints, these chocolate snacks are sure to please everyone. So grab your chocolate, your ingredients, and your appetite, and get ready to make some of the best chocolate snacks ever.
Imagine biting into a gooey, chocolatey, and marshmallowy sandwich that is grilled to perfection. That's what you get with a grilled s'mores sandwich. It's a fun and easy way to enjoy the classic campfire treat without the fire. All you need are bread, butter, chocolate bars, and marshmallows.
Chocolate and peanut butter are a match made in heaven, and these chocolate peanut butter grahams are proof. They are crunchy graham crackers topped with creamy peanut butter and dipped in melted chocolate. You can make them in minutes with just four ingredients and store them in the fridge for a quick and delicious snack.
If you love junior mints, you'll love making your own at home. They are soft and minty candies coated in dark chocolate that melt in your mouth. You can customize the size and shape of your homemade junior mints and use natural ingredients to make them healthier. Plus, they are vegan and gluten-free.
S'mores rice krispie treats are a twist on the classic cereal bars that everyone loves. They have all the flavors of s'mores: graham crackers, chocolate, and marshmallows. They are chewy, crispy, and decadent. You can make them in the microwave or on the stovetop with just six ingredients and no baking required.
Chocolate raisin clusters are a simple and satisfying treat that you can whip up in no time. They are crunchy roasted almonds and chewy raisins covered in smooth melted chocolate. You can use any kind of chocolate you like and make them as big or small as you want. They are perfect for gifting or snacking.
Gourmet chocolate covered strawberries are a classic dessert that never fails to impress. They are fresh and juicy strawberries dipped in high-quality chocolate and decorated with various toppings. You can make them at home with just three ingredients and a microwave. They are ideal for Valentine's Day, anniversaries, or any special occasion.
Peanut butter pretzels are a salty and sweet snack that will satisfy your cravings. They are crunchy pretzels filled with creamy peanut butter and drizzled with melted chocolate. You can make them with just three ingredients and store them in an airtight container for up to two weeks. They are great for parties, road trips, or lunch boxes.
Potato chip clusters are a unique and addictive candy that combines salty and sweet flavors. They are potato chips mixed with peanuts and coated in white chocolate. You can make them in the microwave with just four ingredients and 10 minutes of your time. They are crunchy, nutty, and chocolaty.
Cream cheese chocolate chip dip is a dreamy dessert that you can serve with your favorite fruits, cookies, or crackers. It's a fluffy and creamy dip made with cream cheese, butter, powdered sugar, brown sugar, vanilla, and mini chocolate chips. You can whip it up in 5 minutes with an electric mixer and refrigerate it until ready to serve.
Homemade thin mints are a copycat version of the popular Girl Scout cookies that you can enjoy all year round. They are crisp chocolate cookies coated in mint-flavored chocolate that taste just like the original ones. You can make them with simple ingredients and a few easy steps. They are vegan-friendly and freezer-friendly too.
Homemade trail mix with chocolate and nuts is a healthy and tasty snack that you can customize to your liking. It's a mix of roasted nuts, dried fruits, seeds, chocolate chips, and coconut flakes that provide energy, protein, fiber, and antioxidants. You can make it in bulk and store it in an airtight container for up to a month.
Rolo pretzel buttons are just 3 ingredients away from being your new favorite candy. They are mini pretzels topped with Rolos and M&M's that create a perfect bite of salty, sweet, chewy, and crunchy. You can make them in the oven or the microwave in minutes. They are fun to make with kids and great for holidays or any day.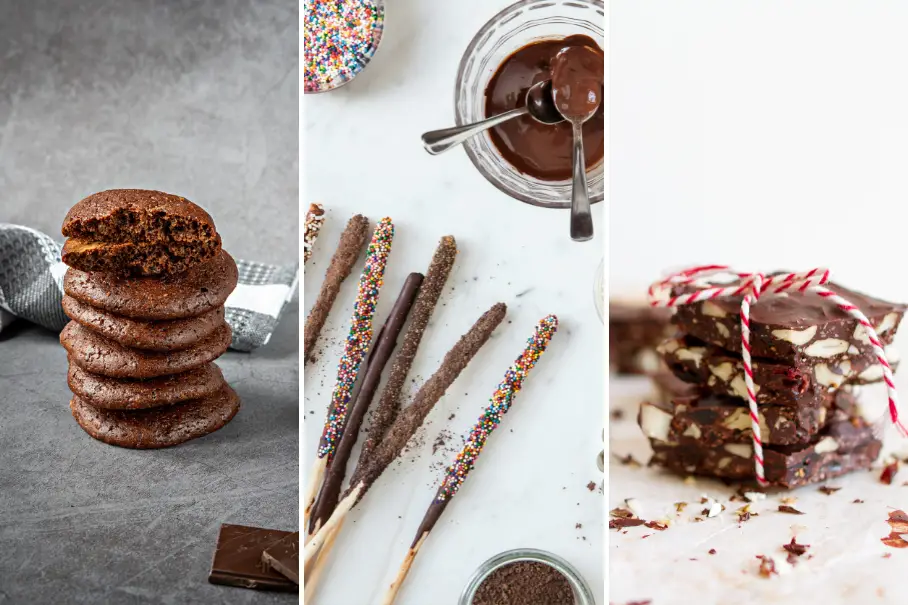 Instructions
Select your favorite chocolate snack recipe.

Gather all necessary ingredients.

Create a tasty chocolate snack using simple steps and enjoy!