Sip on 17 delicious drinks with these chocolate vodka recipes. Classic, festive, and decadent options with popular flavors.
SPIRITED CHOCOLATE VODKA COCKTAILS
If you love chocolate and vodka, you're in for a treat. I have rounded up 17 chocolate vodka recipes that will make your taste buds happy. Whether you want a classic martini, a festive shot, or a decadent dessert drink, I've got you covered with these delicious concoctions. From chocolate cake shot to chocolate blitzen, these recipes are easy, fun, and perfect for any occasion. Plus, they feature some of the most popular decadent flavors, such as peanut butter, Nutella, and espresso. So grab your shaker and get ready to sip on some amazing chocolate vodka recipes!
Indulge in a chocolate martini that is smooth, rich, and decadent. It's made with vodka, chocolate liqueur, creme de cacao, and half and half. You can garnish it with whipped cream, chocolate shavings, or a cherry. It's the perfect drink for chocolate lovers and special occasions.
Make your own chocolate liqueur at home with this easy and delicious recipe. You only need four ingredients: water, sugar, cocoa powder, and vodka. You can customize the sweetness and flavor to your liking. It's great for mixing into cocktails, coffee, or desserts.
Tiramisu martini is a creamy and delightful drink that tastes like the classic Italian dessert. It's made with espresso vodka, coffee liqueur, Irish cream, and vanilla extract. You can rim the glass with cocoa powder and ladyfingers for a festive touch. It's a wonderful way to end a meal or celebrate a special occasion.
White Russian mocha is a cozy and comforting drink that combines coffee, chocolate, and cream. It's made with freshly brewed coffee, chocolate syrup, half and half, and vodka. You can top it with whipped cream and more chocolate syrup for extra indulgence. It's a great drink for cold winter nights or lazy mornings.
Reese's peanut butter cup martini is a dream come true for peanut butter and chocolate fans. It's made with peanut butter whiskey, chocolate liqueur, creme de cacao, and milk. You can rim the glass with peanut butter and crushed Reese's cups for a fun and tasty garnish. It's a sweet and smooth drink that will make you feel like a kid again.
Chocolate blitzen is a festive and fun drink that is perfect for the holidays. It's made with peppermint schnapps, chocolate liqueur, vanilla ice cream, and whipped cream. You can blend it until smooth and creamy, then top it with crushed candy canes and chocolate shavings. It's a refreshing and minty drink that will put you in a merry mood.
Chocolate cake shot is a surprising and delightful shot that tastes like a slice of chocolate cake. It's made with vodka and hazelnut liqueur, then chased with a lemon wedge dipped in sugar. The combination of flavors creates a magical sensation in your mouth that resembles chocolate cake. It's a fun and easy shot to make for parties or celebrations.
Chocolate espresso martini is a sophisticated and elegant drink that will perk you up. It's made with espresso, vodka, coffee liqueur, and chocolate syrup. You can shake it until frothy and chilled, then strain it into a martini glass. It's a smooth and strong drink that will satisfy your coffee and chocolate cravings.
Chocolate orange martini is a fruity and chocolaty drink that is inspired by the Terry's Chocolate Orange candy. It's made with orange vodka, orange liqueur, chocolate liqueur, and cream. You can garnish it with an orange twist or a piece of chocolate orange for extra flair. It's a delicious and festive drink that will brighten up your day.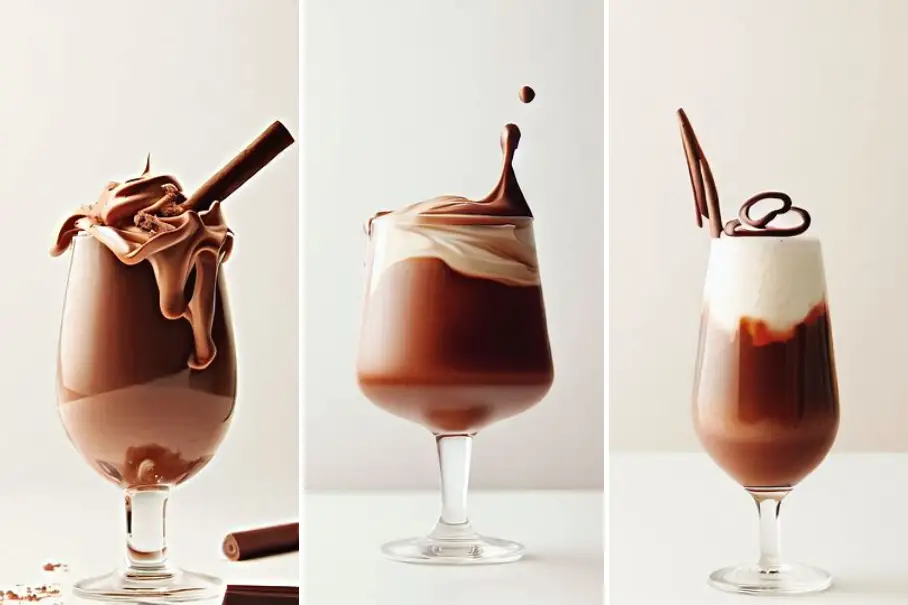 Instructions
Select your favorite chocolate vodka cocktail recipe.

Gather all necessary ingredients.

Create a tasty chocolate vodka cocktail using simple steps and enjoy!