Explore a symphony of flavors with these 19 vibrant chopped salad recipes – perfect for every occasion. Fresh, delicious, and easy to make!
LOAD UP ON YOUR GREENS WITH THESE CHOPPED SALADS
Chopped salads are a great way to enjoy fresh and colorful ingredients in a satisfying and delicious way. They're easy to make, customizable, and perfect for any season. In this list, you'll find 19 chopped salad recipes that are inspired by different cuisines and flavors. You'll find salads with chicken, shrimp, steak, cheese, nuts, and more. Whether you prefer Greek, Thai, Mediterranean, or Mexican, there's a chopped salad for you in this list. So grab your knife, your cutting board, and your appetite, and get ready to make some of the best chopped salads ever.
Greek Chicken Chopped Salad is a fresh and flavorful salad that you can make in 30 minutes or less. It's loaded with crisp lettuce, juicy chicken, crunchy cucumbers, sweet cherry tomatoes, tangy feta cheese, and a homemade lemon-oregano dressing. It's perfect for lunch, dinner, or meal prep.
Chopped Thai Salad with Sesame Garlic Dressing is a vibrant and colorful salad that will brighten up your day. It's packed with crunchy cabbage, carrots, edamame, cilantro, and peanuts, and tossed with a creamy and spicy dressing that's bursting with flavor. It's vegan, gluten-free, and easy to make.
Radish Cucumber Tomato Salad is a simple and refreshing salad that's ideal for summer. It's made with crisp radishes, cucumbers, and tomatoes, and dressed with a light and tangy vinaigrette. It's a great side dish for grilled meats, sandwiches, or wraps.
Mediterranean Chopped Salad is a hearty and healthy salad that's full of Mediterranean flavors. It's loaded with romaine lettuce, chickpeas, cucumbers, olives, artichokes, feta cheese, and a zesty lemon dressing. It's easy to customize with your favorite ingredients and makes a satisfying meal or snack.
Roasted Vegetable Salad with Chimichurri is a warm and cozy salad that's perfect for fall and winter. It's made with roasted sweet potatoes, cauliflower, Brussels sprouts, and red onion, and drizzled with a homemade chimichurri sauce that's herbaceous and garlicky. It's vegan, gluten-free, and delicious.
Favorite Broccoli Salad is a classic salad that everyone loves. It's made with crunchy broccoli florets, dried cranberries, sunflower seeds, red onion, and a creamy honey-mustard dressing. It's easy to make ahead and keeps well in the fridge for days.
BLT Chopped Salad with Corn, Feta & Avocado is a fun and tasty twist on the traditional BLT sandwich. It's made with chopped romaine lettuce, crispy bacon, sweet corn, creamy avocado, salty feta cheese, and a zippy lime dressing. It's a crowd-pleaser that you can serve as a main or a side.
Shirazi Salad is a Persian salad that's light and refreshing. It's made with diced cucumbers, tomatoes, red onion, mint, and parsley, and seasoned with lemon juice, olive oil, salt, and pepper. It's a great accompaniment to any meal or a snack on its own.
Vegetarian Italian Chopped Salad is a filling and flavorful salad that's loaded with veggies, cheese, beans, and pasta. It's tossed with a homemade Italian dressing that's tangy and savory. It's vegetarian-friendly and can be easily made vegan or gluten-free.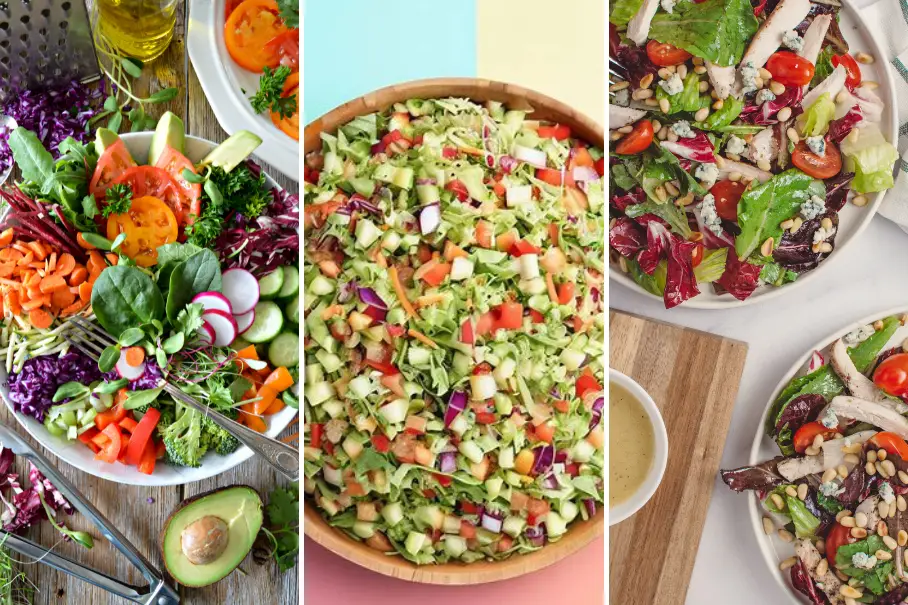 Instructions
Select your favorite chopped salad recipe.

Gather all necessary ingredients.

Create a tasty chopped salad using simple steps and enjoy!