Discover a collection of delightful 3-ingredient appetizers for effortless entertaining. Elevate your event with minimal effort!
The Best 3-Ingredient Appetizers
Today I am going to present to you a collection of appetizer recipes that will not only make your gatherings a success but also keep your prep time to a minimum. We all enjoy hosting friends and family, but the last thing we want is to waste hours in the kitchen. That's why I've selected these splendid recipes—all with just three simple ingredients each. Get ready to dazzle without the hassle as we explore flavors that are as impressive as they are easy to make. Let's get to work and embark on a culinary adventure that's sure to leave everyone wanting more! Time to whip up some 3-Ingredient Appetizers!
Brace yourself for an incredibly easy Crock Pot meatballs recipe that beautifully melds only three ingredients. Combine frozen meatballs, grape jelly, and BBQ sauce for an enticing slow cooker experience. Let your Crock Pot do the work while you savor the delightful outcome!
Wave goodbye to regular grilled cheese sandwiches and welcome Grilled Cheese Roll Ups with open arms! Crafted with only three ingredients, this twist on the classic offers a tastier and more convenient option. Crispy bread and melted cheese unite in a way that will redefine your grilled cheese expectations.
Relish the irresistible flavors of Asian cream cheese wontons in a dip format using just three ingredients! Embrace the same beloved taste profile, now in a quicker and simpler form. This dip version promises the same satisfaction with minimal effort—perfect for your next gathering!
Amp up your party with the Cheesy 3-ingredient Slow Cooker Queso Blanco Dip featuring zesty green chilies. This recipe's simplicity is matched only by its deliciousness, making it an instant hit. Your slow cooker handles the heavy lifting while you bask in the admiration of your impressed guests!
Treat yourself and your guests to the rich, genuine goodness of a cheddar cheese dip crafted from real ingredients. This simple recipe delivers a hearty and irresistible flavor, leaving everyone wanting more. Watch as your gathering embraces the allure of this cheesy delight!
Dive into the ultimate apple dip—rich, sweet, and tangy—perfectly complementing fresh apples. This Caramel Cheesecake Apple Dip is destined to be a crowd-pleaser, capturing hearts with its unforgettable flavors. Prepare for a taste sensation that disappears all too quickly!
Elevate your party with the delightful allure of Crock Pot Kielbasa Bites. A trio of ingredients—kielbasa, apricot preserves, and dijon mustard—come together in a sweet and spicy masterpiece. Let your slow cooker weave its magic while you bask in the sweet and savory notes of these bite-sized wonders.
Embrace the timeless appeal of Classic Pigs in a Blanket, now with a cheese-infused twist. With just two ingredients (or three if you're indulging in cheese), this recipe creates an appetizer that's both delightful and nostalgic. Enjoy a trip down memory lane with a contemporary touch!
Delight your guests with Mini Cubano Sandwich Skewers—a fun and easy bite-sized appetizer. With only three ingredients, these skewers invite dipping and savoring. Make your event unforgettable with this simple yet impressive treat!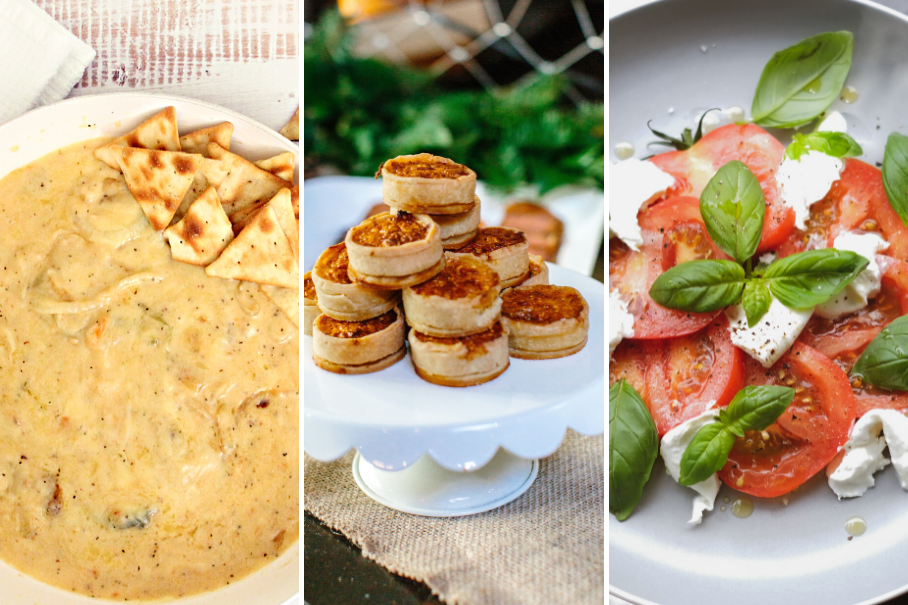 Instructions
Choose your preferred 3-ingredient appetizer recipe.

Gather all necessary ingredients.

Craft a delightful 3-ingredient appetizer creation using simple steps and enjoy!