Did you know that in under 10 minutes you can have a flavorful barbecue rub made? No more running out to the store at the last minute if you have these 4 basic ingredients on hand.
Seasoning your chicken or beef before you grille is one of the most basic, yet often overlooked steps when cooking. Hey, I've been there too. Thinking "Dang! If only I had a package of grilling spices! Oh well, guess I will just have to drown this meat with sauce".

Did you know that what stands between you and a perfectly seasoned, piece of meat with a caramelized crust is just 4 ingredients that you probably already have in your kitchen? Next time you play grillmaster for your family and friends, or even meal prepping, forget about drowning your chicken, or pork tenderloin in BBQ sauce and give this All-Purpose Barbecue Rub a try.
A barbecue rub is a method of seasoning the meat that you will be grilling. It packs a lot of flavors and creates a wonderful caramelized crust. Barbecue rubs work best when the meat is either cooked over an open flame or low and slow in a barbecue smoker.
WHAT DOES THIS ALL-PURPOSE BARBECUE RUB TASTE LIKE?
The All-Purpose Barbecue Rub has 2 primary flavors that you will notice. There is a spiciness that comes from the Paprika, and there is a light sweetness that you will notice from the brown sugar. Both of those flavors meet in the middle nicely with a savory kick from the salt.
Coarse salt – 1/4 cup

Dark brown sugar – 1/4 cup

Smoked Paprika powder – 1/4 cup

Ground black pepper – 2 tablespoons
HOW TO MAKE THIS EASY BARBECUE RUB RECIPE
This is going to be one of the quickest recipes that you can make, but the lasting impression it makes will have people thinking you spent hours grinding spices and herbs.
1. Combine all the ingredients into a food processor or a mixing bowl.
2. Turn on the food processor and mix all the ingredients until well blended. If you do not have a food processor and are using a mixing bowl and whisk, mix ingredients until well blended, about 15 seconds.
3. Use right away, or store in an airtight container or jar for up to six months.
CAN YOU MAKE THIS ALL-PURPOSE SPICE RUB AHEAD OF TIME?
Yes, you can make this spice rub ahead of time. If I am meal prepping, or grilling up a large batch of chicken for the family to snack on throughout the week, I will double the recipe and save some in a jar for later. It will keep for about 6 months.
WHAT TO USE THIS ALL-PURPOSE BARBECUE RUB WITH?
If you are grilling, then you should be using a good-quality barbecue rub. I have found that a lot of the cheap store-bought spice rubs usually end up in a sticky pool at the bottom of the grill. What you want, is a spice rub that will carmelize quickly to make a nice seal and lock in the rest of the flavors of the spices, and the juices from the meat. Give this barbecue rub a try on:
chicken

pork chops

pork tenderloin

flank or flat iron steak
WHAT KITCHEN TOOLS DO I NEED TO MAKE THIS SPICE RUB RECIPE?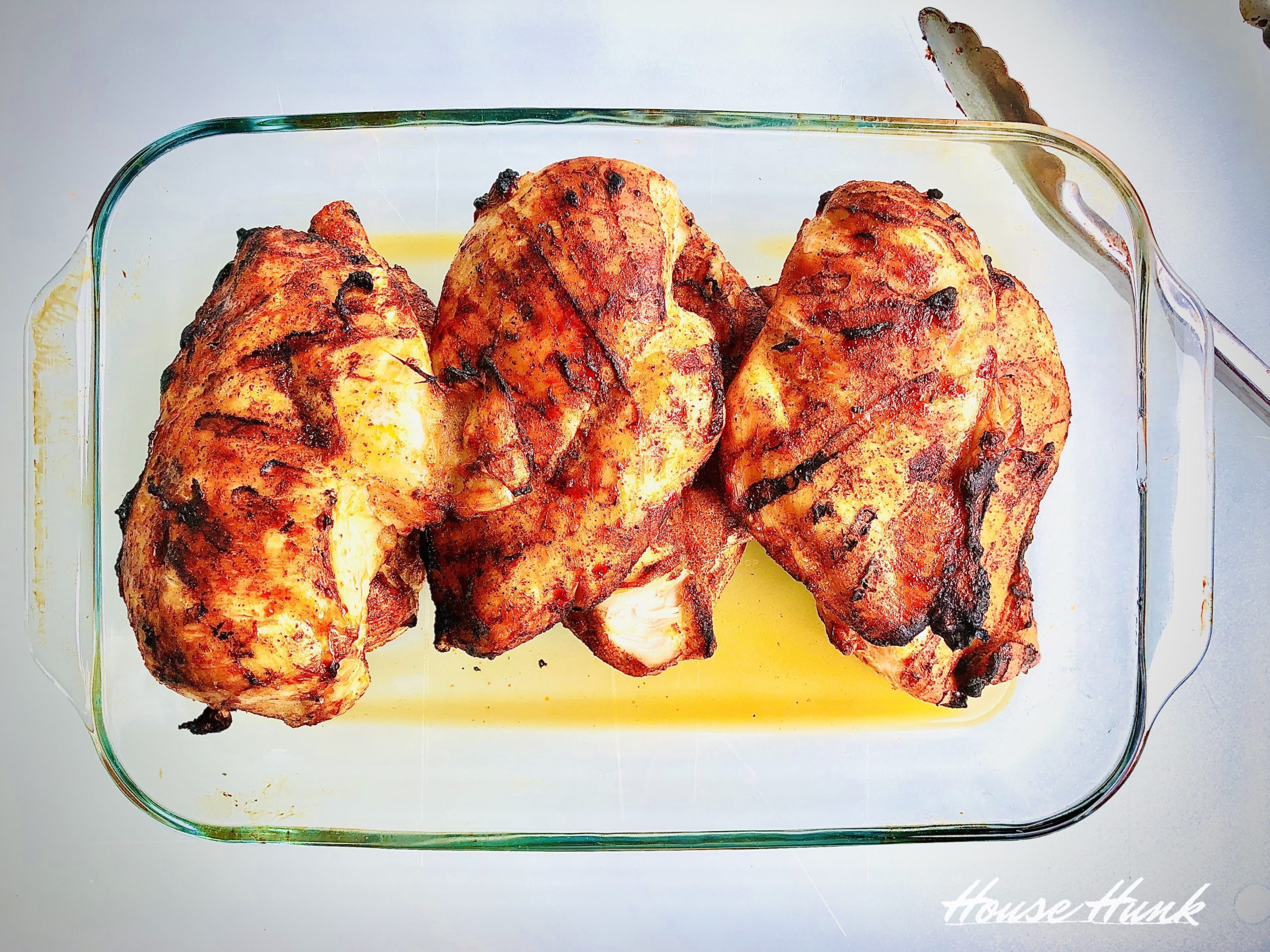 Instructions
Add all ingredients to a food processor and mix until well blended.

Use right away, or you can store the rub in an airtight container and store for up to 6 months.
Notes
If you do not have a food processor, a whisk will do. Or you can mix up all the ingredients using a fork.