From fizzy drinks to savory dishes, indulge in the essence of autumn flavors with these apple cider recipes.
DELICIOUS APPLE CIDER RECIPES
The air is fresh, the leaves are changing, and it's time to enjoy the warm and cozy feeling of apple cider. I'm excited to guide you on a culinary adventure through a series of apple cider recipes that'll fill your senses with the wonder of the season. From guzzling sparkling apple pie drinks to devouring tender cider-braised short ribs, these recipes showcase the spirit of fall in every delicious bite. The fragrant notes of cinnamon, the mild sweetness of apples, and the comfort of savory dishes create a feast of flavors that'll rock your palate. Whether you're aiming to dazzle your guests with a stunning apple cider glazed ham or spoil yourself with fluffy apple cider pancakes, this series has something for everyone. So, grab your preferred mug, relax into the cozy vibes, and let's discover a world of apple cider creations that are sure to warm your heart and please your taste buds.
Celebrate the autumn mood with this festive drink: SPARKLING APPLE PIE ON THE ROCKS! A blend of cinnamon apple cider and champagne with a bubbly finish. Treat yourself to this ultimate holiday beverage!
Impress your guests with this divine Apple Cider Glazed Ham. A smoked ham glazed with a homemade apple cider sauce, flavored with fresh herbs and spices. A stunning dish that showcases the best of pork and apples!
Make your own Sparkling Cider at home and skip the store-bought ones! Experience the refreshing taste of sparkling cider with apple juice, sugar, and yeast, made fizzy with a soda siphon. Adjust the flavor and sweetness to your liking.
Indulge in these heavenly apple cider floats! A bubbly mix of apple flavor and ginger ale, topped with creamy vanilla ice cream and a drizzle of caramel sauce. A decadent and frothy dessert!
Warm up with Cider Braised Short Ribs, a tender and flavorful dish. Caramelized onions and creamy mashed potatoes complement the succulent meat. A simple and delicious meal for cold nights!
Enjoy the fall flavors with these chewy apple cider caramels. Each soft bite is filled with the richness of spiced apple cider. A delightful candy for all!
Try your hand at baking these Baked Apple Cider Donuts! Choose between a cinnamon and sugar coating or an apple cider glaze. Make some donut holes as well – great for sharing!
Upgrade your salad with this Roasted Butternut Squash Salad! Roasted squash, cranberries, goat cheese, and pepitas add texture and flavor, along with a delicious Cider Vinaigrette. A masterpiece inspired by fall!
Give the classic Moscow Mule a twist with apple cider! Apple cider, lime juice, vodka, and ginger beer create a magical drink for fall. Enjoy the essence of autumn with every sip.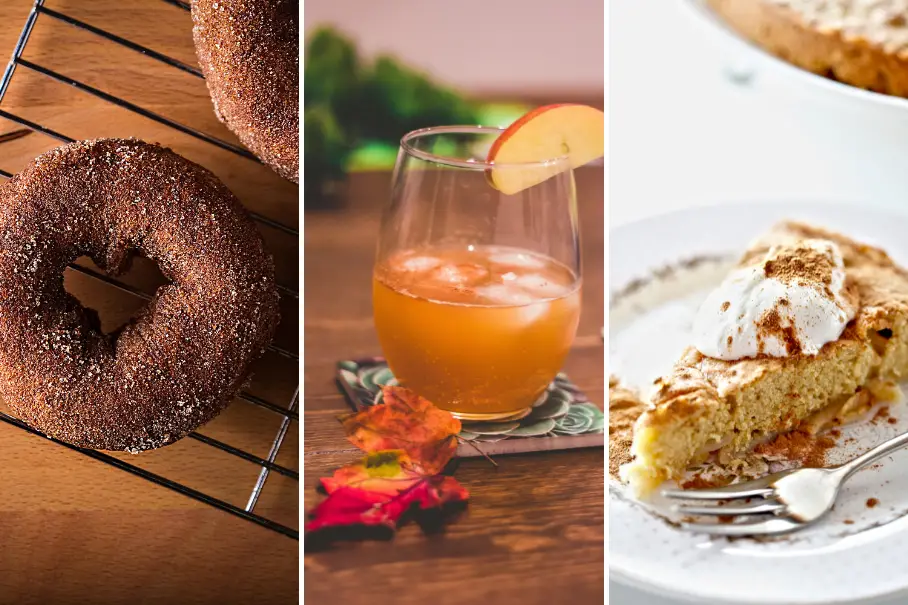 Instructions
Select apple cider recipes that warm your soul.

Gather all necessary ingredients.

Prepare delightful apple cider recipes using simple steps and enjoy the comforting sip!