Indulge in the flavors of fall with these delectable apple cake recipes. From moist bundt cakes to spiced layers, these desserts capture the essence of autumn.
APPLE CAKES TO ENJOY ALL AUTUMN
As the leaves turn their fall colors, there's a strong craving for cozy treats that reflect the spirit of the season. And what better way to welcome the arrival of fall than with a bunch of tempting apple cake recipes that showcase the best of autumn's bounty? Picture sinking your fork into a slice of Cinnamon Apple Cake, where the soft crumb meets the crunchy cinnamon topping, all covered in a sweet frosting drizzle. Or enjoying the richness of an Apple Bundt Cake that features the tasty combination of fresh apples, warm cinnamon, and a luscious caramel glaze. These recipes aren't just desserts; they're gateways to moments of pure pleasure and shared happiness. From the light and fluffy Apple Pear Pound Cake with hints of maple syrup to the sparkling wonder of a Sparkling Apple Cider Pound Cake, each bite takes you to the core of fall's finest flavors. So, get set to start a culinary adventure that celebrates the season of change and abundance, one delicious slice at a time.
This Cinnamon Apple Cake is a simple and tasty cake that has fresh apples in it. It has a crunchy cinnamon topping and a sweet frosting drizzle. It is a delicious cake that you will enjoy.
This apple bundt cake is a moist and delicious cake that has fresh apples, cinnamon, and nutmeg in it. It has a rich caramel glaze on top that makes it irresistible. It is an easy recipe for a fall-inspired dessert.
This apple cake is a light and fluffy cake that has fresh apple chunks and butterscotch morsels in it. It is the ultimate dessert for the fall season. It has a caramel drizzle and whipped cream on each slice that is decadent and delicious.
This Apple Pear Pound Cake is a fun dessert for the autumn. It has apples and pears in it with a bit of maple syrup. It is a yummy and moist cake that you will love.
This Sparkling Apple Cider Pound Cake is a homemade pound cake that has a light apple flavor. It is moist and tasty. It has a delicious apple cider glaze on top that adds more flavor.
This apple cake with walnuts is an old-fashioned cake that is super moist and easy to make. You don't have to peel the apples for this cake. It keeps well and has a fantastic flavor.
This Apple Coffee Cake is everything you want in a fall dessert. It has a moist cake with cinnamon and apples in it. It has a crumble topping and a brown sugar glaze that make it extra delicious.
This Apple Cake is a simple and traditional German dessert that you can make easily. You don't have to be very confident in the kitchen to make this cake. It is a perfect coffee cake for the fall.
This Apple Pie- Romanian Style is easy and delicious to make. You cook the apples before baking the pie to reduce the moisture. It is a tasty pie that you will enjoy.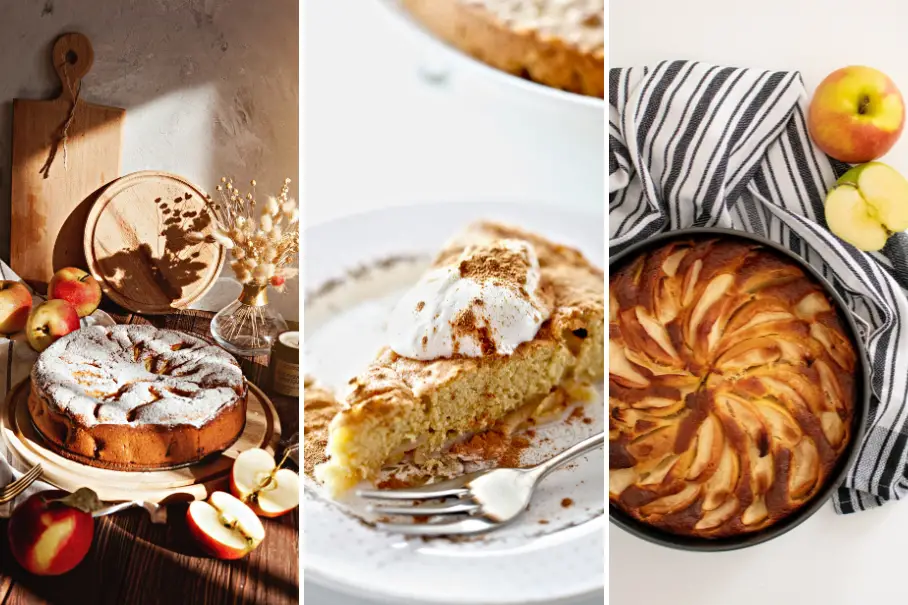 Instructions
Choose an apple cake recipe that tantalizes your senses.

Gather all necessary ingredients.

Craft a delicious apple cake using simple steps and savor the apple-infused delight!