Embark on a culinary adventure with these Asian ground beef recipes. From Thai basil beef to Korean bowls, discover a world of flavors that'll delight your taste buds.
Recipes Infused with Asian Flair and Ground Beef
Brace yourself for a culinary thrill that will ignite your taste buds with the exotic flavors of Asia. Get set for a mouthwatering experience as we plunge into a series of Asian ground beef recipes that will make your palate sing with joy. Picture the fragrant mix of spices, the crackle of well-seasoned meat, and the combination of ingredients that create scrumptious masterpieces. From the fiery excitement of Thai basil beef to the cozy comfort of Cantonese ground beef rice, each dish tells a unique story on your plate. These recipes showcase the essence of Asia's varied cuisines, offering a variety of flavors that'll make you want more. Whether you're a fan of creamy curries, spicy stir-fries, or filling rice bowls, there's something here to please every taste bud. So, grab your apron and get ready to start a culinary adventure that'll whisk you away to the lively markets and colorful kitchens of Asia. With each bite, you'll be enjoying not just food, but a glimpse into the cultures and traditions that have inspired these tasty creations. Let's dive in and discover the richness of Asian-inspired ground beef dishes that will boost your dinner game.
You can make this Thai Basil Beef recipe in less than 30 minutes and it tastes amazing! You can adjust the spiciness to your liking. It's a simple and satisfying dish.
This Cantonese Ground Beef Rice and Eggs is a quick and easy meal. It has a flavorful oyster sauce, onion, green peas, and soft eggs. It's a comforting and delicious beef bowl.
Picadillo is a meat dish with tomato, potato, and carrots. It can be made with ground beef or pork, or both, depending on where it comes from. It's a hearty and tasty dish.
This Keema Matar (Ground Beef and Peas Curry) recipe is a Pakistani/Indian dish that is easy, versatile, and flavorful. You can make it in one pot with simple ingredients. It's a delicious curry that goes well with rice or bread.
These Korean beef bowls are healthy, easy, and delicious. They have saucy ground beef, vegetables, and rice. You can make them in 20 minutes for a great dinner.
These Chinese eggplants with ground beef are simple and yummy. They are cooked with garlic, soy sauce, and vinegar. You can make them in 15 minutes and serve them with rice.
This Thai Beef Larb is a spicy and fresh salad with ground beef, lime juice, fish sauce, chilies, and mint. It has a lot of umami, heat, and herbs. It's gluten-free, dairy-free, and done in 15 minutes.
This Meat Sauce Recipe is hearty and addictive. You can serve it over Taiwanese noodles or rice for a filling meal.
Kare Pan or Japanese Curry Bread is a crispy and soft snack with curry filling. It is deep-fried until golden and delicious. You can make it at home with this easy recipe and video.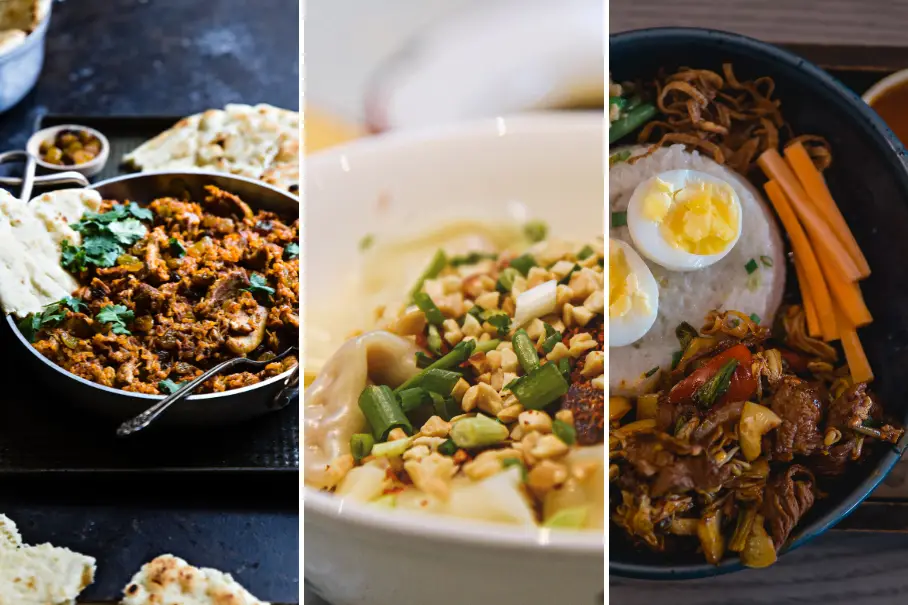 Instructions
Pick Asian-inspired ground beef recipes that ignite your taste buds.

Gather all necessary ingredients.

Craft flavorful Asian ground beef dishes using simple steps and savor the oriental goodness!