Embark on a culinary journey with 24 symbolic and delectable Chinese desserts, steeped in tradition and flavor.
CHINESE DESSERT RECIPES FOR SWEET SENSATIONS
Chinese desserts are not only delicious, but also rich in culture and symbolism. Many of them are associated with festivals, celebrations, and auspicious meanings. For example, tang yuan are glutinous rice balls that represent family reunion and harmony, while fa gao are steamed cakes that symbolize prosperity and fortune. Here, I will introduce you to 24 amazing Chinese desserts that you can make at home and share with friends and family. You will find a variety of flavors, textures, and ingredients, from candied fruits to almond jelly, from fried milk to snow fungus soup, and more. These are the best Chinese desserts you need to try.
Satisfy your sweet tooth with these candied hawthorn sticks, a traditional Chinese snack that's easy to make at home. You'll need fresh hawthorn berries, sugar, water, and bamboo skewers. The result is a crunchy and tangy treat that's perfect for any occasion.
Treat yourself to this Chinese almond jelly, a smooth and refreshing dessert that's vegan and gluten-free. You'll need almond milk, agar-agar powder, sugar, and vanilla extract. You can also add some fruit or syrup for extra flavor and color.
Learn how to make soy milk pudding, a simple and healthy dessert that's popular in China. You'll need soy milk, gelatin, sugar, and water. The pudding is creamy and smooth, with a subtle soy flavor. You can enjoy it plain or with some toppings of your choice.
Indulge in this fried milk, a crispy and creamy dessert that's sure to impress your guests. You'll need milk, cornstarch, sugar, eggs, bread crumbs, and oil. The milk is cooked into a thick custard, then cut into pieces and deep-fried until golden and crunchy.
Bake these almond cookies, a buttery and nutty dessert that's easy to make and delicious to eat. You'll need butter, sugar, flour, almond flour, baking powder, salt, egg yolk, and almond slices. The cookies are soft and chewy, with a crunchy almond topping.
Spice up your cake with this chocolate Chinese five spice cake recipe, a moist and rich dessert that's full of flavor. You'll need butter, sugar, eggs, flour, cocoa powder, baking soda, salt, Chinese five spice powder, sour cream, and chocolate chips. The cake is topped with a decadent chocolate ganache for a heavenly finish.
Celebrate Chinese New Year with this eight treasure rice, a festive and colorful dessert that's loaded with dried fruits and nuts. You'll need glutinous rice, sugar, oil, red bean paste, and various dried fruits and nuts such as dates, raisins, apricots, almonds, and walnuts. The rice is steamed in a bowl and inverted onto a plate for a stunning presentation.
Enjoy these sachima, a soft and chewy snack that's similar to rice krispie treats. You'll need flour, eggs, baking powder, oil, sugar, maltose syrup, and sesame seeds. The dough is fried into thin strips and coated with a sticky syrup that binds them together.
Make these Chinese walnut cookies, a crunchy and crumbly dessert that's perfect for tea time. You'll need butter, sugar, eggs, flour, baking soda, baking powder, salt, walnuts, and sesame seeds. The cookies are shaped into balls and pressed with a walnut half for a lovely appearance.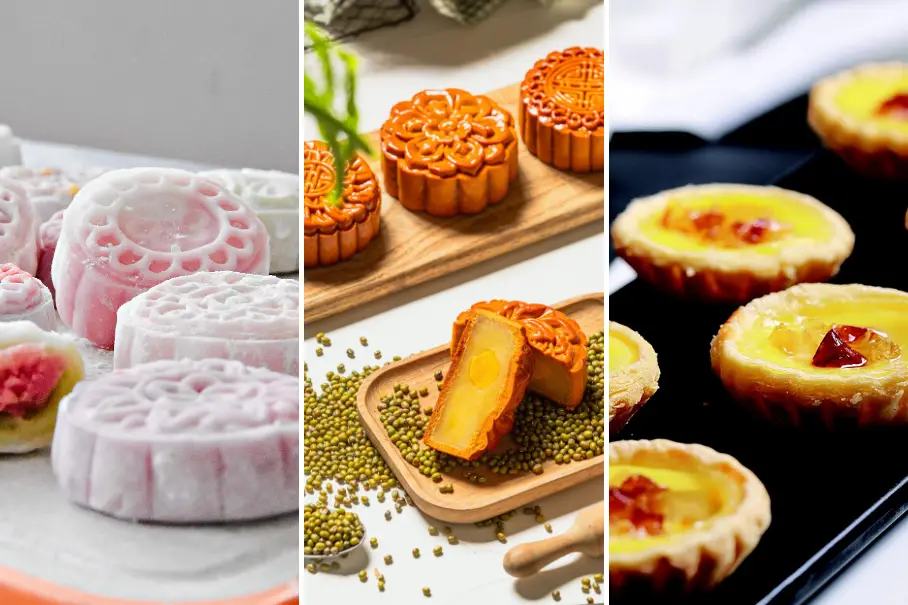 Instructions
Select your favorite Chinese dessert recipe.

Gather all necessary ingredients.

Create a tasty Chinese dessert using simple steps and enjoy!