Discover the versatility of Chinese cabbage recipes with these 10 flavorful and nutritious creations!
GET YOUR GREENS IN WITH THESE CHINESE CABBAGE CREATIONS
Chinese cabbage is a versatile and nutritious vegetable that can be used in many delicious dishes. Whether you prefer the crunchy and mild bok choy or the tender and sweet napa cabbage, you will find plenty of recipes to enjoy in this list. From soups and salads to dumplings and stir-fries, these Chinese cabbage recipes are easy to make and full of flavor. You will love the combination of savory, spicy, sour, and sweet tastes that make Chinese cuisine so unique and satisfying. So grab some Chinese cabbage and get ready to cook these amazing dishes. These are the best Chinese cabbage recipes you need to try.
Warm up with a hearty bowl of Chinese beef noodle soup, a classic dish that's easy to make at home. You'll love the tender beef, chewy noodles, and aromatic broth infused with star anise, cinnamon, and ginger. Add some bok choy or spinach for extra greens and enjoy this comforting meal any time of the year.
Craving a quick and healthy side dish? Try this vinaigrette cabbage stir-fry, a simple recipe that takes only 15 minutes to prepare. The cabbage is cooked until crisp-tender and tossed with a tangy dressing made with soy sauce, vinegar, and sugar. It's a delicious way to eat more veggies and add some crunch to your plate.
Nothing beats homemade potstickers, especially when they're filled with juicy pork and crunchy cabbage. Learn how to make these Chinese pan-fried dumplings from scratch, with step-by-step instructions and tips for folding and cooking them perfectly. Serve them with a dipping sauce of your choice and watch them disappear in no time.
If you love potstickers, you'll also love these pork and cabbage dumplings, another popular Chinese snack that's great for sharing. These dumplings are boiled instead of fried, making them lighter and softer. They're also easy to freeze and reheat, so you can make a big batch and enjoy them whenever you want.
Spice up your dinner with this hot and sour cabbage stir-fry, a Sichuan dish that's bursting with flavor. The cabbage is stir-fried with dried chilies, Sichuan peppercorns, vinegar, and soy sauce, creating a mouthwatering contrast of heat and tanginess. It's a vegan-friendly recipe that goes well with rice or noodles.
For a simple and satisfying meal, try this Chinese cabbage stir-fry with pork and noodles. The cabbage is cooked with garlic, ginger, and oyster sauce, giving it a savory taste and a tender texture. The pork is marinated with soy sauce and cornstarch, making it moist and tender. The noodles are tossed with sesame oil and scallions, adding a nutty and fresh touch.
Stir-fried bok choy is a classic Chinese vegetable dish that's easy to make and good for you. Bok choy is rich in vitamin C, calcium, and fiber, and has a mild and sweet flavor. This recipe shows you how to stir-fry it with garlic, salt, and sugar, bringing out its natural sweetness and crunchiness.
Bok choy soup is a light and refreshing soup that's perfect for spring or summer. It's made with chicken broth, ginger, garlic, and soy sauce, creating a flavorful base for the bok choy. You can also add some tofu or mushrooms for extra protein and texture. It's a low-carb and gluten-free recipe that's ready in 20 minutes.
Bacon and cabbage may sound like an unlikely combination, but they work surprisingly well together in this stir-fry recipe. The bacon adds a smoky and salty flavor to the cabbage, while the cabbage adds some crunch and freshness to the bacon. It's a simple dish that can be made in one pan and served as a main or a side.
Chinese pickled cabbage is a fermented vegetable that's tangy, crunchy, and addictive. It's easy to make at home with just cabbage, salt, sugar, vinegar, and water. You can also add some spices or chili flakes for extra flavor. It's a great condiment or snack that can last for months in the fridge.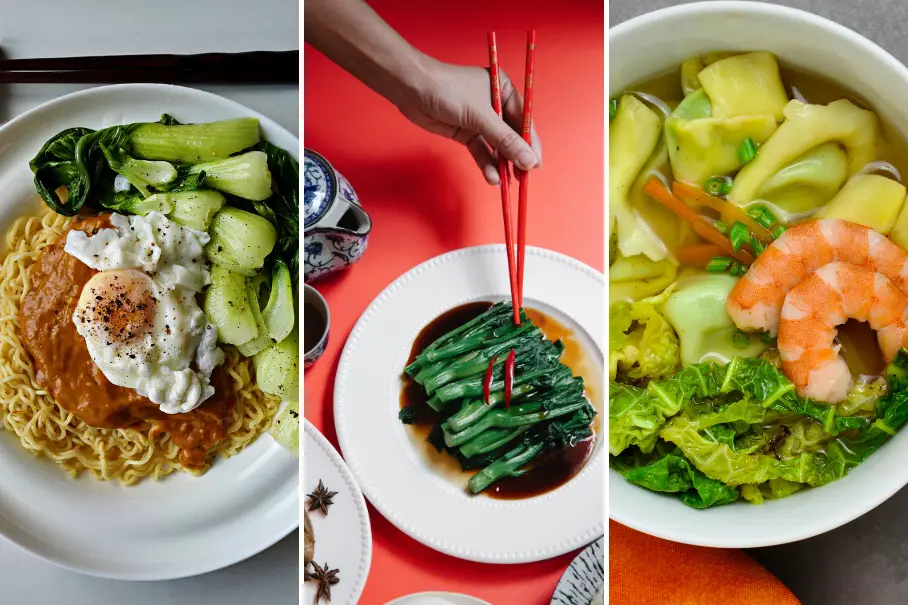 Instructions
Select your favorite Chinese cabbage recipe.

Gather all necessary ingredients.

Create a tasty Chinese cabbage dish using simple steps and enjoy!