Welcome the Chinese New Year with 10 delectable desserts, blending tradition and flavor for a sweet celebration.
THE BEST CHINESE NEW YEAR DESSERTS FOR YOUR PARTY
Chinese New Year is a time to celebrate with family and friends, and what better way to do that than with some delicious desserts? Whether you're looking for traditional treats or modern twists, I've got you covered with 10 amazing recipes that will make you rush to the store to grab some ingredients. From eight-treasure rice to sesame seed balls, from nian gao to fa gao, from almond cookies to fortune cookies, and more, these desserts are sure to bring you luck and happiness in the new year. So grab your apron and get ready to bake, fry, steam, and boil these sweet delights. These are the best Chinese New Year desserts you need to try.
Eight treasure rice is a festive dish that features glutinous rice studded with eight kinds of dried fruits, nuts, and seeds. It's sweetened with sugar and flavored with rose water and osmanthus flowers. It's steamed in a bowl and inverted onto a plate for a stunning presentation.
Sesame seed balls are a crunchy and chewy treat that are popular during Chinese New Year. They're made with glutinous rice flour, brown sugar, water, and red bean paste. They're coated with sesame seeds and deep-fried until golden and puffy.
Nian gao is a sticky rice cake that symbolizes prosperity and good luck. It's made with glutinous rice flour, water, sugar, and oil. It can be steamed, baked, or fried, and served plain or with toppings like coconut, red bean paste, or nuts.
Fa gao is a fluffy and spongy cake that's also known as fortune cake. It's made with wheat or rice flour, yeast, sugar, and water. It's steamed in a steamer basket until it cracks open, revealing a smile-like shape.
Almond cookies are a buttery and crumbly delight that are easy to make and hard to resist. They're made with flour, butter, sugar, almond extract, baking powder, salt, and almond slices. They're baked in the oven until lightly golden and crisp.
Fortune cookies are a fun and whimsical way to end a meal or celebrate an occasion. They're made with egg whites, sugar, butter, vanilla extract, flour, and salt. They're baked in thin circles and folded around paper slips with messages or predictions.
Tang yuan are sweet rice balls that are often eaten during the Lantern Festival or Winter Solstice. They're made with glutinous rice flour, water, food coloring, and various fillings like black sesame, peanut, or red bean paste. They're cooked in boiling water and served in a sweet soup.
Taro balls are a chewy and colorful dessert that originated from Taiwan. They're made with taro root, sweet potato, potato starch, sugar, and water. They're boiled until soft and bouncy and served with shaved ice, grass jelly, or coconut milk.
Red bean soup is a warm and comforting dessert that's also nutritious and filling. It's made with dried red beans, water, sugar, and optional ingredients like dried tangerine peel, lotus seeds, or sago pearls. It can be enjoyed hot or cold. \
Egg tarts are a creamy and flaky pastry that are influenced by the Portuguese pastel de nata. They're made with puff pastry dough, eggs, milk, sugar, and vanilla extract. They're baked in muffin tins until the custard is set and the crust is golden1.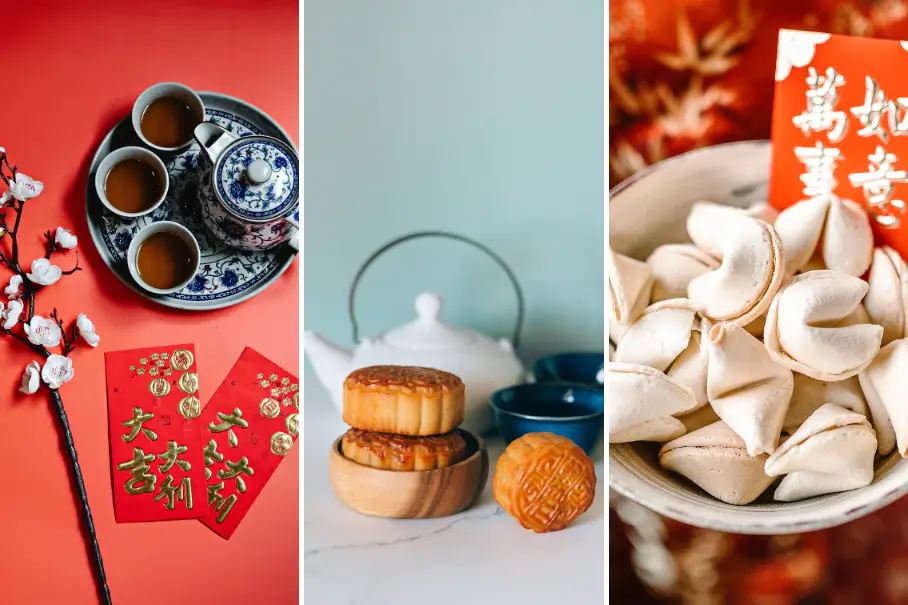 Instructions
Select your favorite Chinese New Year dessert recipe.

Gather all necessary ingredients.

Create a tasty Chinese New Year dessert using simple steps and enjoy!