Indulge in these easy-to-make and flavorful penne pasta dishes perfect for any night of the week. From jambalaya to creamy chicken and bacon pasta, satisfy your cravings with these recipes.
PLENTY OF PENNE DISHES TO GO AROUND
There's something about pasta that is so comforting and satisfying, isn't there? Whether it's a busy weeknight or a lazy weekend, a delicious bowl of pasta is always a good idea. I'm excited to share these delicious penne pasta recipes with you today, each one packed with flavor and sure to please even the pickiest of eaters. So, grab your pasta strainer and let's get cooking!
Looking for a spring-inspired pasta dish that's both healthy and packed with flavor? Then check out this veggie-loaded penne pasta dish with chicken sausage! It's easy to make and full of fresh, bright flavors that are perfect for the season.
If you're in the mood for something creamy and garlicky, then you'll love this super simple Creamy Garlic Penne Pasta recipe! It's bursting with flavor and can be enjoyed on its own or with some juicy chicken.
When you're looking for a budget-friendly midweek meal that's easy to make and sure to please everyone, this simple Penne Pasta with ground beef and tomato sauce is the way to go! It's packed with classic Italian flavors like garlic, basil, and Italian seasoning.
Craving something baked and cheesy? This easy baked penne recipe is loaded with Italian sausage and smothered in a rich marinara sauce. And don't forget about the generous amounts of parmesan and mozzarella cheese on top!
If you're a meat lover, then this Meat Lovers Pizza Pasta bake is definitely for you! With three types of meat – pepperoni, Italian sausage, and sopressata – this dish is the perfect combination of cheesy and meaty goodness.
Want to make a pasta dish that's both creamy and savory? Try this chicken Alfredo bake! The penne pasta is cooked and tossed with a creamy sauce, chicken, and cheese before being baked to golden-brown perfection.
Looking for a way to use up leftover Thanksgiving turkey? This Creamy Turkey Pasta Primavera recipe is the perfect solution! It's packed with tender pieces of turkey and a variety of fresh vegetables that are sure to please.
This penne alla vodka recipe is the perfect way to add a little bit of luxury to your pasta dish. The tender penne pasta is tossed in a rich and delicious tomato, vodka, and cream sauce that's topped with generous amounts of parmesan cheese.
For those who love a little bit of spice, this Pasta Arrabiata recipe is a classic! It's healthy, easy to make, and the fiery tomato sauce will definitely please your taste buds.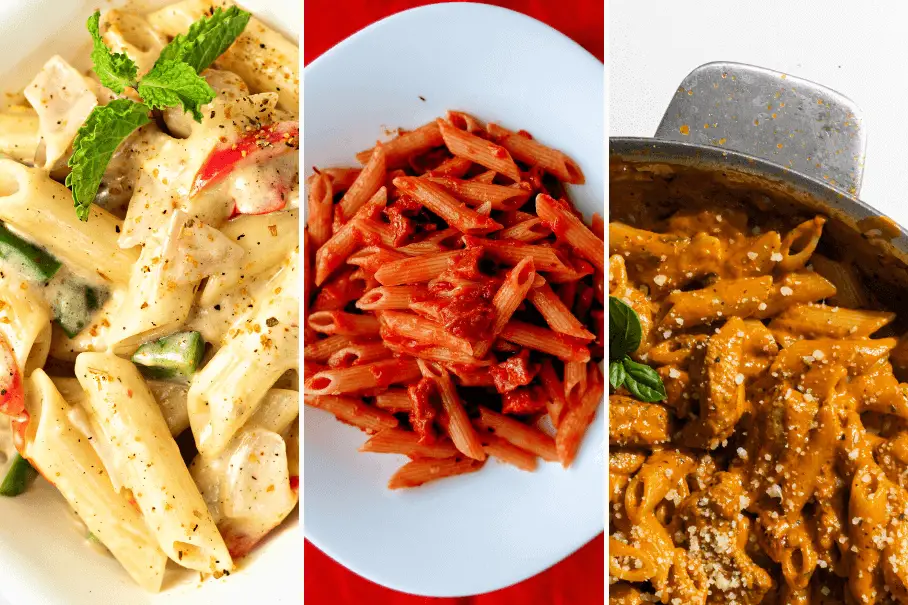 Instructions
Choose your favorite penne pasta recipe.

Gather all the necessary ingredients.

Prepare a delightful penne pasta recipe and enjoy!