Wow your guests with 21 chocolate desserts for Christmas. Enjoy classic cakes and unique treats with festive flavors.
THE BEST CHOCOLATE DESSERT RECIPES FOR CHRISTMAS PARTIES
Chocolate desserts are a must-have for any Christmas celebration. They're rich, decadent, and festive. Whether you're looking for cakes, cookies, truffles, or pies, you'll find a recipe that will wow your guests in this list. I have gathered 21 of the best chocolate desserts for Christmas from some of my favorite bloggers. You'll find classic flavors like peppermint, cherry, and hazelnut, as well as some unique twists like chocolate salami, reindeer bark, and chocolate pavlova. These chocolate desserts are sure to make your holiday season sweeter.
These Guinness chocolate cupcakes with Irish whiskey frosting are a decadent treat for St. Patrick's Day or any occasion. They're moist, rich, and infused with the flavor of dark beer. The fluffy buttercream frosting is spiked with whiskey and sprinkled with chocolate shavings. They're a boozy and delicious dessert that will make you feel lucky.
These boozy Christmas chocolate truffles are a festive and fun way to celebrate the holidays. They're made with chocolate, cream, butter, and your choice of liquor, such as rum, brandy, or Baileys. They're also coated with cocoa powder, nuts, or sprinkles for a crunchy and colorful finish. They're perfect for gifting, snacking, or serving at parties.
This chocolate peppermint cheesecake is a creamy and luscious dessert that's perfect for the winter season. It has an Oreo cookie crust and a smooth chocolate cheesecake filling that's swirled with peppermint extract. It's also topped with whipped cream and crushed candy canes for a festive and minty touch. It's easy to make with just a few ingredients and no water bath required.
These double chocolate biscotti are a crunchy and chocolatey treat that you can enjoy with coffee, tea, or milk. They're made with cocoa powder, chocolate chips, and almonds for a rich and nutty flavor. They're also easy to bake and store for up to two weeks in an airtight container. They're great for breakfast, dessert, or anytime you need a chocolate fix.
These candy cane hot cocoa pops are a fun and creative way to enjoy hot chocolate on a stick. They're made with melted chocolate, cream, and crushed candy canes that are poured into ice cube trays and frozen. They're also decorated with more candy canes and mini marshmallows for a cute and festive look. They're great for kids, parties, or as gifts.
Chocolate salami is a no-bake dessert that looks like a real salami but tastes like a rich and fudgy brownie. It's made with crushed cookies, cocoa powder, butter, and sugar, and rolled in powdered sugar for a realistic effect. It's perfect for slicing and serving with coffee or tea.
Peppermint bark macarons are a festive and elegant treat that combines two classic flavors: chocolate and mint. They're made with almond flour, egg whites, and sugar, and filled with a creamy white chocolate ganache that's flavored with peppermint extract. They're also sprinkled with crushed candy canes for a crunchy and minty touch.
Easy chocolate cherry trifle is a stunning dessert that's layered with chocolate cake, whipped cream, cherry pie filling, and chocolate shavings. It's easy to make with store-bought or homemade ingredients and can be assembled ahead of time. It's perfect for feeding a crowd or impressing your guests.
Festive Christmas rocky road fudge is a delicious and colorful treat that's loaded with marshmallows, nuts, candies, and chocolate chips. It's easy to make with condensed milk, butter, and chocolate, and no candy thermometer required. It's also great for gifting, snacking, or serving at parties.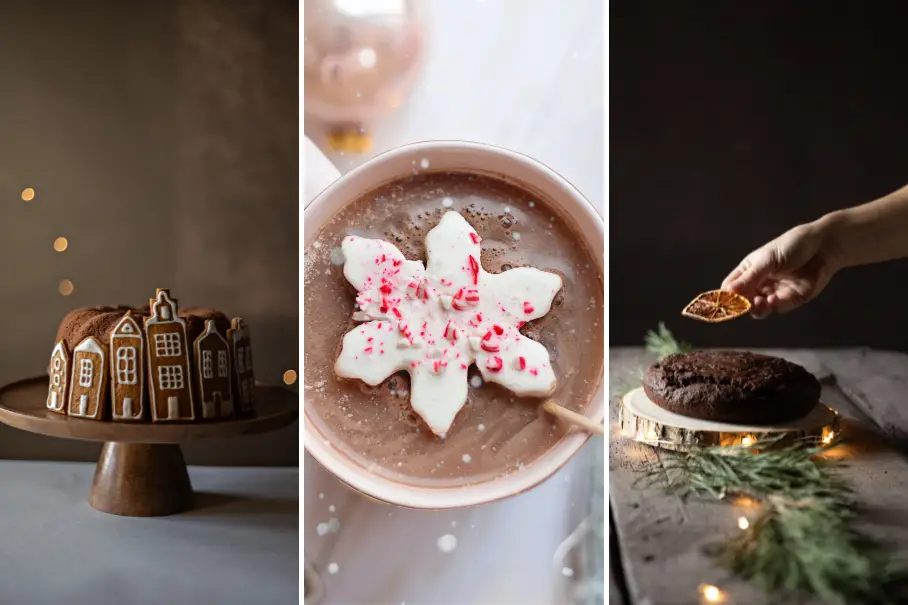 Instructions
Select your favorite chocolate dessert for Christmas recipe.

Gather all necessary ingredients.

Create a tasty chocolate Christmas dessert using simple steps and enjoy!