Explore 13 easy and delightful chocolate candy recipes for a sweet homemade treat!
HOMEMADE CHOCOLATE CANDIES FOR SWEET SNACKING
Chocolate candy is one of the most popular and satisfying treats you can make at home. Whether you need a gift, a party favor, or a simple indulgence, you'll find a recipe that suits your taste and skill level in this list. I have collected 13 chocolate candy recipes that are easy, delicious, and fun to make. You'll find classics like truffles, clusters, and toffee, as well as creative twists like chocolate-covered Oreos, peanut butter pretzels, and Rolo buttons. These chocolate candy recipes are sure to impress your friends and family with their flavor and presentation. So grab your chocolate, your candy thermometer, and your sweet tooth, and get ready to make some amazing chocolate candy.
Who says you can't enjoy chocolate mounds candy if you're vegan? These coconut-filled treats are dairy-free, gluten-free, and easy to make. You only need four ingredients: shredded coconut, coconut oil, maple syrup, and vegan chocolate chips. They are perfect for satisfying your sweet tooth or gifting to your friends.
Peanut butter truffles are creamy, nutty, and decadent balls of chocolate bliss. They are made with peanut butter, cream cheese, powdered sugar, and chocolate candy coating. You can customize them with sprinkles, nuts, or crushed cookies. They are great for parties, holidays, or any occasion that calls for a bite-sized treat.
Mocha truffles are a coffee lover's dream come true. They are rich and smooth chocolate truffles infused with espresso powder and vanilla extract. They are coated in cocoa powder for a bittersweet finish. You can make them in advance and store them in the fridge or freezer for a delicious pick-me-up anytime.
Chocolate peanut clusters are a classic candy that never goes out of style. They are crunchy roasted peanuts covered in melted chocolate. You can use milk, dark, or white chocolate, or a combination of all three. They are super easy to make in the microwave or on the stovetop with just two ingredients.
Chocolate raisin clusters are a simple and satisfying treat that you can whip up in no time. They are crunchy roasted almonds and chewy raisins covered in smooth melted chocolate. You can use any kind of chocolate you like and make them as big or small as you want. They are perfect for gifting or snacking.
If you love junior mints, you'll love making your own at home. They are soft and minty candies coated in dark chocolate that melt in your mouth. You can customize the size and shape of your homemade junior mints and use natural ingredients to make them healthier. Plus, they are vegan and gluten-free.
Saltine cracker toffee is a sweet and salty snack that is addictive and irresistible. It's made by spreading a layer of caramel over saltine crackers and topping it with chocolate chips and nuts. It's baked in the oven until bubbly and crisp, then broken into pieces. It's also known as Christmas crack for a reason.
Chocolate covered Oreos are a fun and easy way to dress up your favorite cookies. They are Oreos dipped in melted chocolate and decorated with sprinkles, candy melts, or crushed candy canes. You can make them for any holiday or theme with different colors and shapes. They are sure to impress your guests and family.
Chocolate peanut butter grahams are a match made in heaven, and these snacks are proof. They are crunchy graham crackers topped with creamy peanut butter and dipped in melted chocolate. You can make them in minutes with just four ingredients and store them in the fridge for a quick and delicious snack.
Rolo pretzel buttons are just 3 ingredients away from being your new favorite candy. They are mini pretzels topped with Rolos and M&M's that create a perfect bite of salty, sweet, chewy, and crunchy. You can make them in the oven or the microwave in minutes. They are fun to make with kids and great for holidays or any day.
Peanut butter pretzels are a salty and sweet snack that will satisfy your cravings. They are crunchy pretzels filled with creamy peanut butter and drizzled with melted chocolate. You can make them with just three ingredients and store them in an airtight container for up to two weeks. They are great for parties, road trips, or lunch boxes.
Pretzel turtles are a cute and tasty candy that combines salty and sweet flavors. They are pretzels topped with Rolos and pecans that form little turtle shapes. You can make them in the microwave with just three ingredients and 10 minutes of your time. They are crunchy, chewy, nutty, and chocolaty.
Homemade English toffee is a crunchy and buttery candy that is coated in chocolate and nuts. It's made by boiling sugar, butter, water, and salt until it reaches a golden brown color, then spreading it on a baking sheet. It's topped with chocolate chips that melt on the hot toffee, then sprinkled with chopped almonds or walnuts. It's perfect for breaking into pieces and sharing.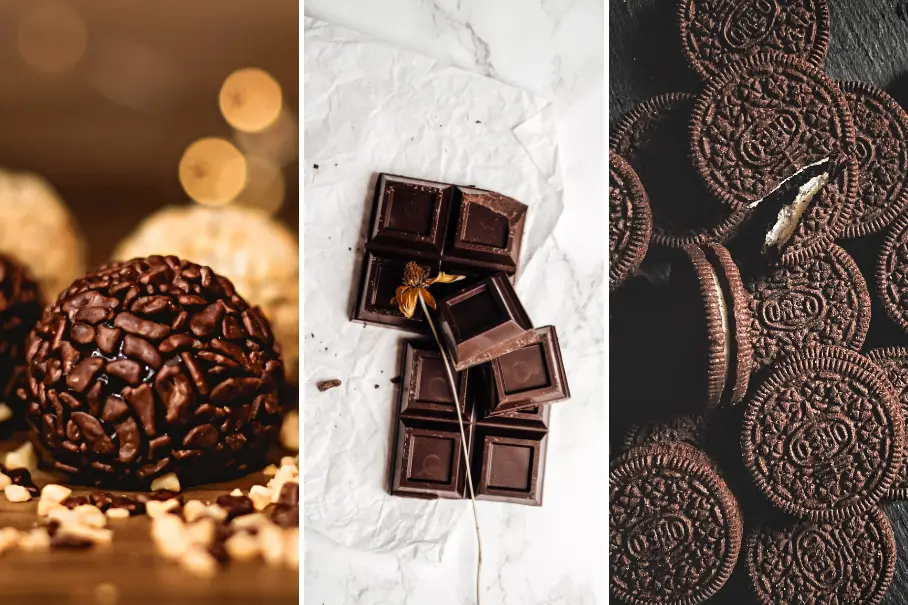 Instructions
Select your favorite chocolate candy recipe.

Gather all necessary ingredients.

Prepare a tasty chocolate candy creation using simple steps and enjoy!