Get excited for a pizza feast! Fun and flavorful pizza recipes that will leave you craving more—dig in, or nibble slice by slice!
THE BEST PIZZA RECIPES FOR SAVORING THOSE SLICES!
Ready to embark on a mouthwatering adventure of cheesy goodness and crispy crusts? Look no further! I've curated a collection of fun, casual, and oh-so-delicious pizza recipes that will satisfy your taste buds and tickle your palate. From classic flavors to creative twists, these pizzas are perfect for pizza nights, family gatherings, or any occasion where you want to indulge in the joy of pizza. So, get your aprons on and let's get started on this pizza journey—it's time to create your very own slice of heaven!
RELATED: Homemade Pizza Seasoning Blend
Get ready for a flavor explosion with the Shaved Asparagus and Bacon Pizza! Topped with sliced scallions and crumbled bacon, it's pure delight.
Step up your pizza game with the Skillet Margherita Polenta Pizza! It's quick, veggie-friendly, and gluten-free—plus, you can make it vegan too!
Craving a quick dinner fix? The Grandma Pizza's got your back with its crispy, dense crust—perfect for busy weeknights.
It's classic BBQ chicken pizza time! Tangy BBQ sauce, tender chicken, and delectable Gouda cheese make this homemade delight unbeatable.
Cheesy and mouthwatering, the Shrimp Scampi Pizza brings all the goodness of shrimp scampi to your pizza night—ready in under 30 minutes!
Spice things up with the Buffalo Chicken Pizza! Flavored with blue cheese and cilantro, it's a pizza night favorite for everyone.
Indulge in the ultimate New-York Style 3-Cheese White Pizza—drizzled with olive oil, loaded with mozzarella, parmesan, and ricotta, and sprinkled with Italian herbs.
Craving a quick and flavorful delight? This Goat Cheese & Caramelized Onion Pizza takes less than 30 minutes to make, thanks to balsamic drizzle.
Treat yourself to a delicious Fennel and Sausage Pizza, featuring fresh fennel, mild Italian sausage, garlic, crushed red pepper flakes, and basil.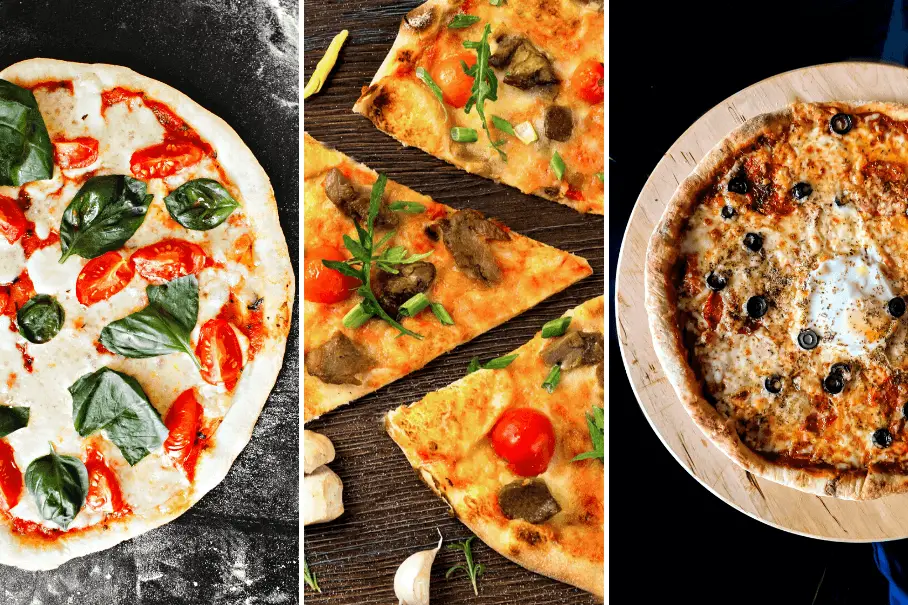 Instructions
Choose your favorite pizza recipe.

Gather all the necessary ingredients.

Prepare a delightful pizza recipe using simple steps and enjoy!