These classic Scalloped Potatoes are loaded with layers of potatoes and a rich, creamy sauce. Perfect for busy weeknights or large gatherings!
THE BEST SCALLOPED POTATOES RECIPE
Comfort food can mean many things to many people. For some, it is a spicy noodle dish, others it is their favorite sour dough bread recipe. Comfort food for me, usually contains potatoes, and lots of them. In my somewhat biased opinion, my mother made the best Scalloped Potatoes recipe. It is, the Ultimate Comfort Food. It combines a ton of potatoes, ham, and a creamy sauce that gets almost a doughy consistency across the top. This recipe checks a lot of boxes, and I hope that you enjoy it. Serve it as a side dish, as a main dish, or just grab a couple bites straight from the tray while walking past the refrigerator. The choice is yours!
WHAT ARE SCALLOPED POTATOES?
Scalloped potatoes are similar to Potatoes Au Gratin, with the only difference being, that Potatoes Au Gratin has loads of cheese, whereas this recipe does not. It is still a creamy, savory, hearty recipe.
WHAT DOES THIS POTATO CASSEROLE TASTE LIKE?
This scalloped potato recipe is rich and creamy. The all-purpose flour that is sprinkled on top makes for a topping that is similar to a biscuit layer. The flour also soaks up some of the liquids from the milk and butter and is a welcome savory addition to the dish.
HOMEMADE SCALLOPED POTATOES RECIPE INGREDIENTS
Russet potatoes (scrubbed clean) – 3 pounds
Cooked, chopped ham – 8 ounces
Milk – 4 cups
All-purpose flour – 3/4 cup
Unsalted butter – 8 tablespoons
HOW TO MAKE THIS POTATO CASSEROLE RECIPE
Slicing and dicing and a little bit of sprinkling are all that stand in the way of you and the best scalloped potatoes on the planet!
Preheat the oven to 350 F.
Thinly slice potatoes and place them in a baking dish
Mix in chopped ham
Pour in milk and top with flour and butter pieces
Season with salt and pepper and bake for 45 min or until potatoes are fork-tender and sauce has thickened
Serve immediately
CAN YOU MAKE THESE POTATOES AHEAD OF TIME?
You can make this recipe earlier in the day, or the day before and refrigerate it. I wouldn't advise prepping all the ingredients before you are ready to cook it. If you slice potatoes and leave them out, then they tend to turn a greyish color, and that is just not very apetizing.
CAN YOU FREEZE SCALLOPED POTATOES?
You can freeze this scalloped potato recipe. Because it is so thick, you will probably want to thaw it out before you try reheating it in the microwave.
WHAT TO SERVE WITH SCALLOPED POTATOES?
Scalloped potatoes can be either served as a side or a main dish. Because it is quite a hearty recipe, if you serve it as the main course, then I would pair it with something like a small side salad. If you are looking for more hearty and filling recipes, make sure you check these out:
WHAT KITCHEN TOOLS DO I NEED TO MAKE THESE CREAMY POTATOES?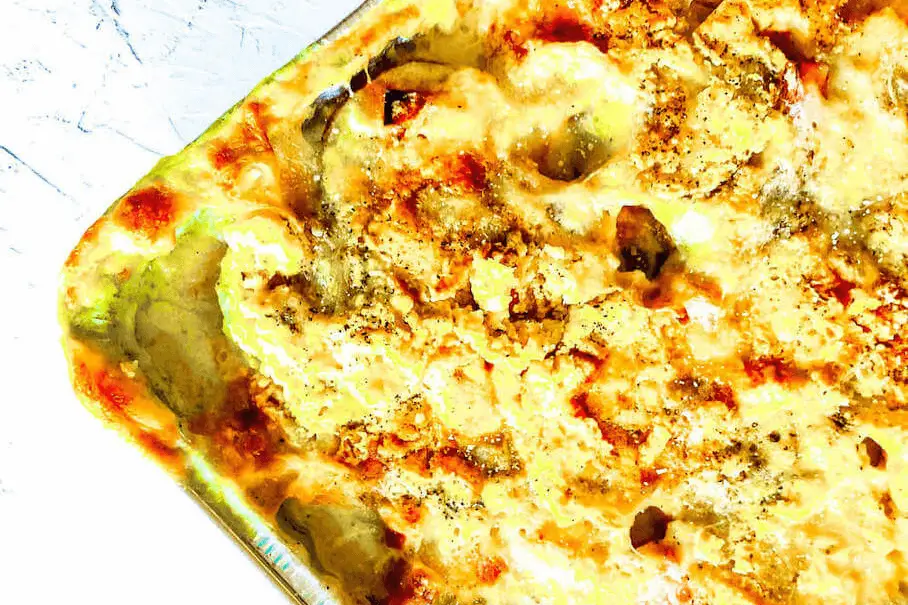 Instructions
Thinly sliced potatoes, and place in baking dish

Pour in milk and top with flour and butter pieces

Season with salt and pepper, and bake for 45 minutes or until potatoes are fork-tender, and the sauce has thickened