Turn your backyard into a haven of fun with these DIY backyard games ideas. From classics to inventive creations, bring on the fun!
DIY BACKYARD GAME IDEAS FOR OUTDOOR FUN
Brace yourself for a backyard makeover with a touch of ingenuity and a dose of fun. Picture endless hours of laughter, friendly rivalry, and bonding moments as you plunge into the world of DIY backyard games. Whether you're throwing a lively party, a cozy family day, or just looking for some outdoor entertainment, this series of crafty game ideas will turn your outdoor space into a center of happiness and friendship. So get ready, grab your tools, and let's start an adventure of creating memories that will stay forever!
Instead of tossing your tin cans, transform them into fun and creative crafts. This post teaches you how to make 5 different projects with tin cans, such as a wind chime, a bird feeder, and a robot. You only need some glue, paint, and imagination.
This post has you covered if you are looking for some DIY outdoor games to have fun with your family and friends. You will discover 12 easy and inexpensive games that you can make yourself, such as giant Jenga, tic-tac-toe, and cornhole. These games are ideal for backyard parties, picnics, or camping trips.
Have fun with this unique and simple Backyard Scavenger Hunt for kids or make it a date with your sweetheart! Enjoy the simple things in life with this one-of-a-kind activity.
This pool noodle backyard obstacle course is a fun and active way to keep your kids busy. You can make it with pool noodles, duct tape, and stakes. You can tailor it to your space and your kids' ages and abilities.
Frisbee tic-tac-toe is a game you'll love if you're bored with traditional games. Add a little sport to classic tic-tac-toe by turning it into an awesome challenge!
This corn hole game is a great way to reuse an old pallet and have some fun outdoors. It is easy to make with a pallet, some wood, paint, and bean bags. Learn how to make your own corn hole game in a weekend with this step-by-step tutorial.
Make a soccer goal out of PVC pipe for less than half the price of store-bought versions! Your kids will love using this DIY soccer goal. Learn how to make it with this easy guide.
This backyard slingshot is a cool and exciting project that you can build with your kids. It is made with PVC pipes, rubber bands, leather, and wood. It can launch water balloons, tennis balls, or even pumpkins.
This is a fun DIY bean bag toss game using clay saucers. This bean bag game is easy to put together. A fun activity for all!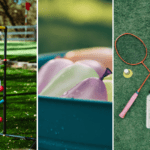 Print
DIY Backyard Games
Turn your backyard into a haven of fun with these DIY backyard games ideas. From classics to inventive creations, bring on the fun!
Instructions
Elevate outdoor fun with DIY backyard games.

Gather all necessary game supplies.

Create entertaining DIY backyard games using simple steps and enhance your outdoor experience!