Discover the art of stress-free mornings with these delectable breakfast meal prep recipes. From savory bites to sweet treats, fuel up for the day ahead without the fuss.
START THE DAY WITH THESE BREAKFAST MEAL PREP IDEAS
Let's talk about mornings – the rush, the hustle, and the need for something nourishing to kickstart our day. That's where the magic of breakfast meal prep recipes comes in. Imagine waking up to ready-to-enjoy delights that are not only flavorful but also set the tone for a successful day. From satisfying baked goodies to savory cups of goodness, I've gathered a collection that's about to revolutionize your mornings. No more scrambling around the kitchen – just wholesome, delicious bites waiting to fuel you up. Join me on this journey through the world of breakfast meal prep, and get ready to conquer your mornings effortlessly.
Prepare these Breakfast Bowls ahead of time for a wholesome start to your day. You can make them for weekly meal prep or freeze them for later. Just heat them up and enjoy!
These Breakfast Cookies are perfect for a meal prep breakfast or a snack. They are vegan and gluten free and easy to make. They are delicious and healthy cookies that you can enjoy anytime.
These Baked Ham and Egg Cups are a low carb breakfast that you can take on the go. They have ham, eggs, and cheese in a cup shape. They are simple and tasty breakfast cups that you can make in advance.
Make Ahead Breakfast Biscuit Sandwiches are warm, flaky, and delicious. They have eggs, bacon, and cheese on buttermilk biscuits. You can store them in the fridge and reheat them in the morning.
DIY Just Crack an Egg cups are homemade and easy. You can make them and freeze them for later. Just crack an egg and microwave them for a quick breakfast.
This Sheet Pan Eggs recipe is a fast and easy way to make a breakfast meal for a large group using only your oven. It is delicious and versatile. You can customize it with your favorite toppings.
Learn how to make the best basic muffin recipe ever with all the tips & tricks. You can use one batter for any flavor you want. They are moist, fluffy, and yummy muffins that you can make easily.
These Mini Frittatas are great for breakfast, brunch, or snack. They have eggs, cheese, bacon, and spinach in them. You can make them in muffin tins and eat them hot or cold.
These Breakfast Squares are healthy, chewy, and soft. They have oatmeal, banana, peanut butter, and chocolate chips in them. They are vegan, gluten-free, and take only 15 minutes to make.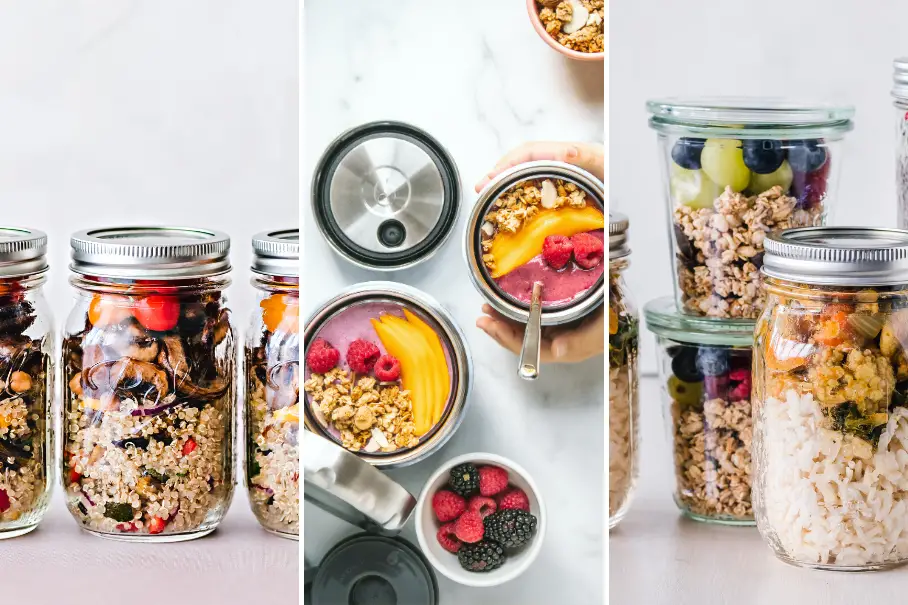 Instructions
Optimize your mornings with breakfast meal prep recipes.

Gather all necessary ingredients.

Master the art of breakfast meal prep using simple steps and enjoy hassle-free mornings!