Has your child's school switched to a virtual learning program instead of the traditional in-person education? Are you struggling with outfitting a home education center for virtual learning? Here is a list of some items that the school may have overlooked on their list of necessary materials that may help you formulate a plan.
Our Virtual Learning Classroom Setup
My kids' first day of school tends to be a bittersweet event for me. I am excited for them to meet their teachers, reconnect with classmates, and learn new and fascinating things. However, it's also a reminder that time marches on. I remember elementary school growing up, and how I thought I was super mature and grown-up. It's only a matter of time, that my sweet, huggable little guys are going to think that they are too old for our silliness. That doesn't mean the silliness will stop, there will just be a couple more eye-rolls to deal with.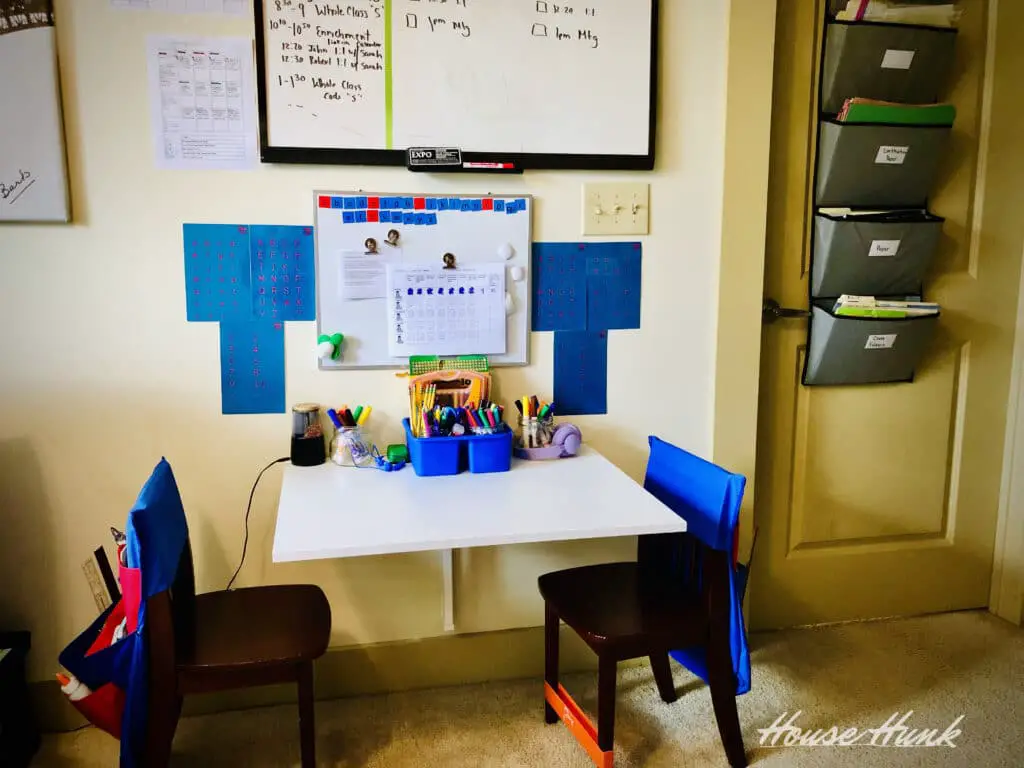 As a global pandemic continues to deliver blows to most parts of the world, one thing that was up for sacrifice was going to be this year's first day of school ritual. We traded in clean, organized backpacks and fresh haircuts for setting up a virtual classroom and, well, no haircuts. My twin boys are starting 2nd Grade this fall. It wasn't my favorite of grades, but I am optimistic that my sons will make the best of it. However, given the current state of public health concerns, they are beginning the year with a remote learning setup. Instead of exploring their new classroom, they are attending Zoom meetings and doing assignments in Google Classroom. In this rather wonky time, it was important for us to establish a sense of normalcy for the kids. So, even though they aren't being dropped off at a school building every day, we made sure to set up a separate space that is dedicated to learning. Even though it is near their bed and toys, when they are in those seats, they are students.
A virtual classroom setup doesn't have to break the bank, and it also doesn't need to take up every square foot of your home. Here are a few basics that should be included, as well as a few extras that you may want, such as bouncy desk bands if you are children happen to trend towards the fidgety side.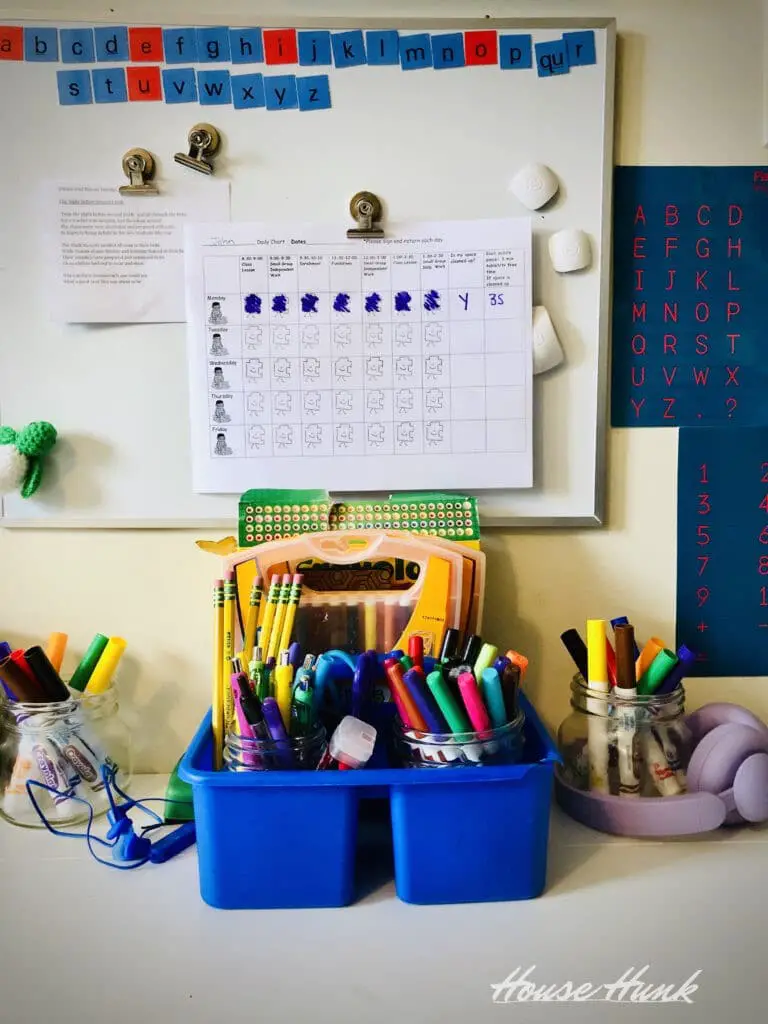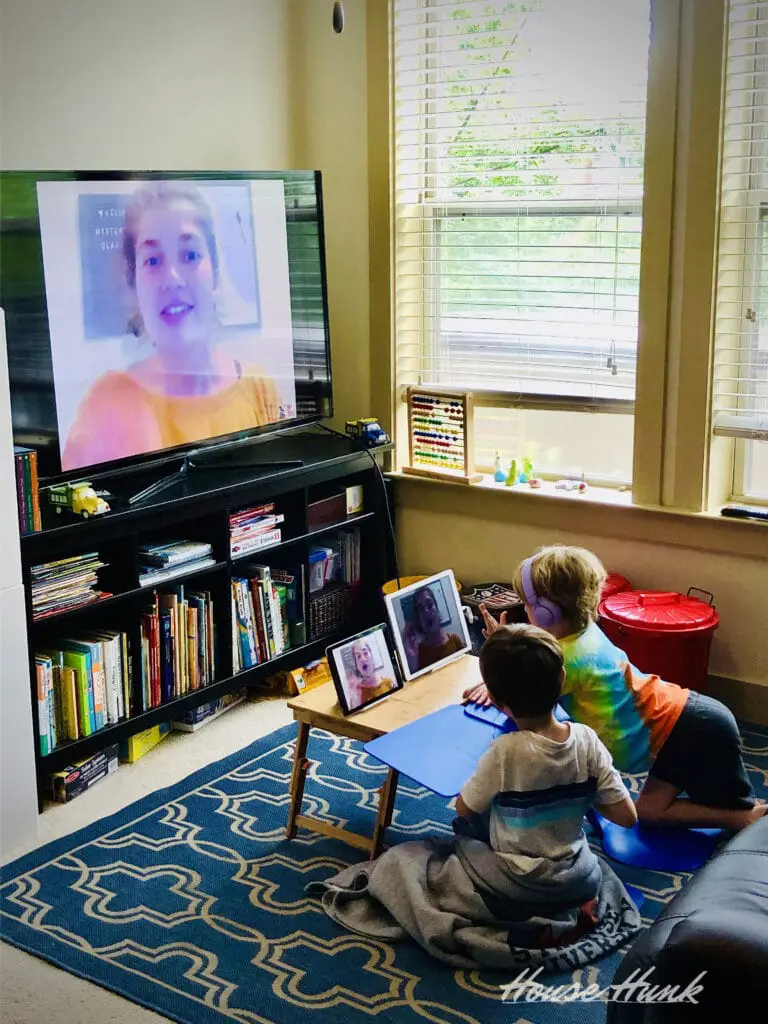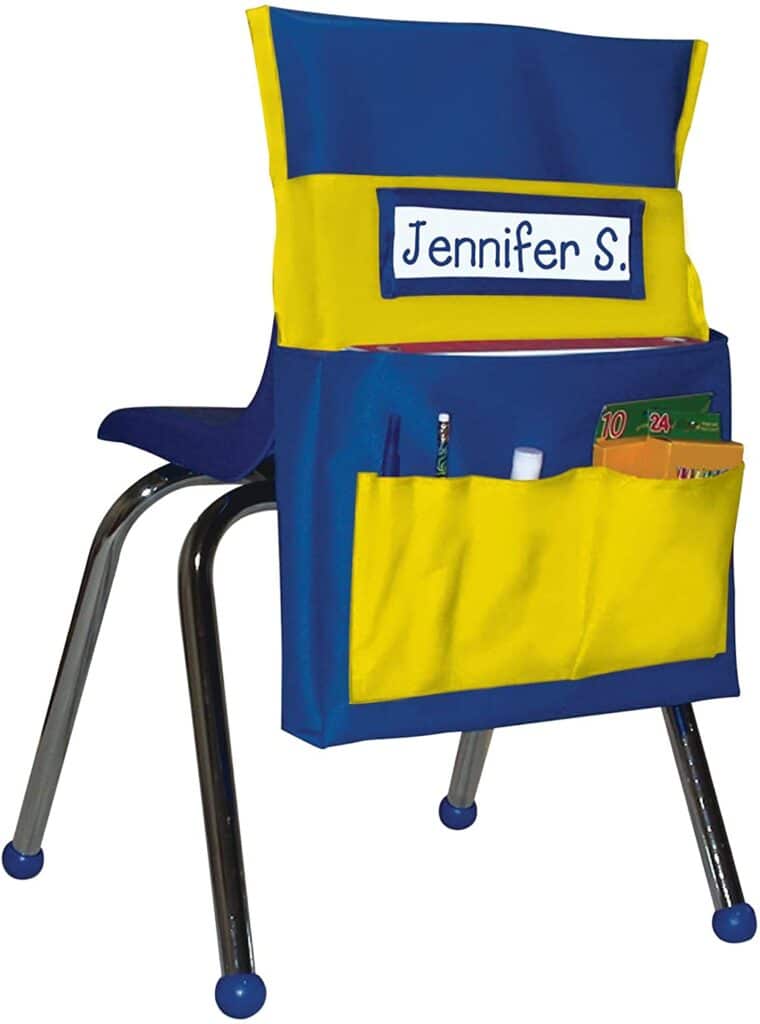 1. Chair Back Pocket Organizer
Whether you choose Walmart chair pockets or the Carson Dellosa Chairback Buddy you will love them. Since there is not a current need for backpacks, these chairback organizers fill that need. I like backpacks because it keeps our kids' school clutter in one place. Part of setting up a virtual classroom means keeping it organized so your kids can find everything easily. These chair pockets are up to that task.
2. Bouncy Kick Fidgets for Chairs and Desk
My boys are in second grade. Second-grade boys are usually bouncy kids, all the time. And, given that they are not getting tired out by their teachers, and recess, and a slew of different school-bound activities, they are especially fidgety. These big rubber bands strap around the legs of their chairs and they can kind of thrash about from the waist down. They can also be strapped around the legs of a desk and your kid can bounce their feet up and down. These fidget desk bands are great for keeping your little students in their seats.
Little kids need little chairs. If your little one needs a creative outlet, perhaps sourcing a child's unfinished wooden chair and have them decorate it any way they want to express themselves. If not, this small child wooden chair or an Ikea kids chair will work just fine for their virtual classroom furniture.
4. The Surf Portable Lap Desk
A portable lap desk for kids is great if you are looking to switch up their learning environment now and then. Kids need a change of scenery to keep those little brains growing. The ecr4kids Surf Portable Lap Desk is only 3.5 pounds so the kids can take it with them if they are going to do a little outside project, or just to sit in it on the floor and color while taking a brain break.
5. iPhone & iPad to HDMI Adapter Cable
There are a few important aspects to a distance learning classroom setup, and one of them is technology. If your kids are using a tablet for their learning module, and you want to either follow along, or just pop your head in and see how they are doing, then I suggest picking up an iPad HDMI adapter, or a tablet HDMI adapter. This is a simple way to connect the tablet to a TV without needing Apple TV. It mirrors the tablet's screen or a laptop's screen onto your TV. This is especially helpful during Zoom calls or Skyping with friends and relatives.
6. Bluetooth Wireless Headphones
Have you ever listened in on a Zoom call with 24 elementary school students? If you have, then you know what it's like. If you haven't, then maybe you should try it, just once. Headphones & headsets for kids are great addition to a virtual classroom setup. Bluetooth kids' headphones paired with a tablet allow the kids to interact with their teachers or classmates, however, you don't need to hear 22 or 23 other yelling kids all at once. These don't have to be super expensive either. A decent pair for just listening to classes can be $20. A set of noise-canceling headphones for school can be a great addition to your home-based learning station.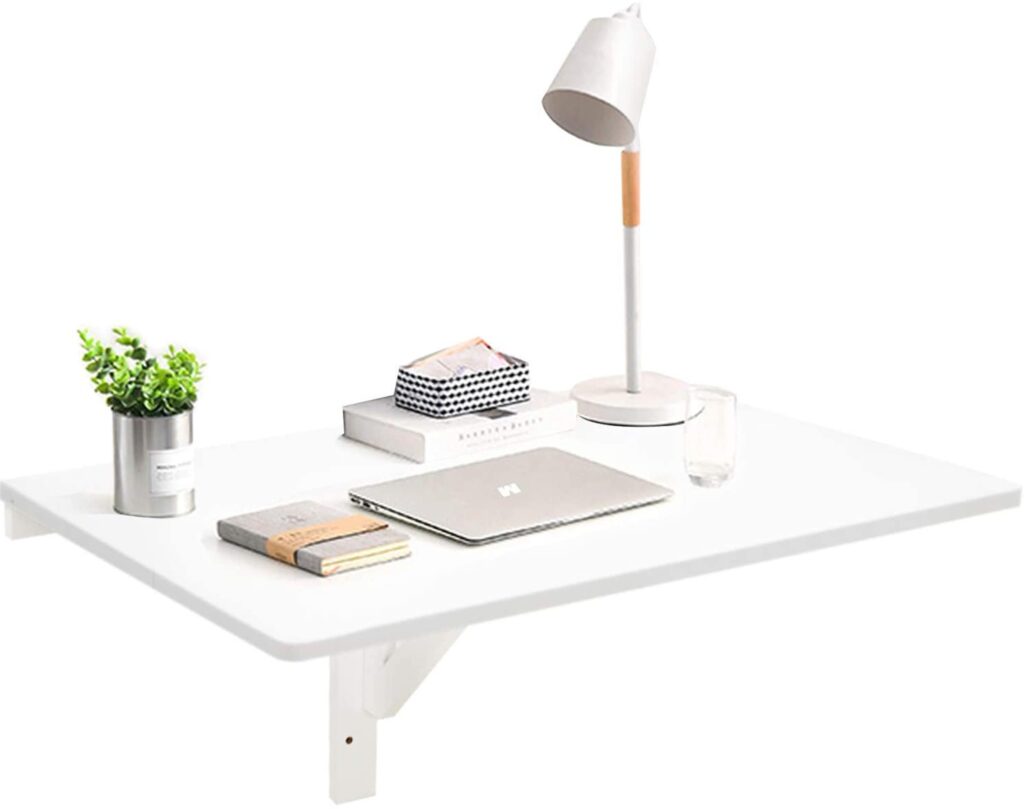 We decided our best option was to use a wall-mounted drop-leaf table for small spaces. This fold-down desk is great for a virtual learning classroom because when it is not in use, you can simply drop the desktop down and it stays out of your way. If you use some decent wall anchors, this wall-mounted desk can support enough weight for most elementary school activities.
A desk organizer for kids is an absolute must. Pencils and crayons seem to roll off the most level of surfaces, and if you ever stepped on a staple remover, then you are parenting on a higher level. Any organizer for a small home office will work, just remember to keep the sharp pencil tips facing down.
The best kids water bottle, in my opinion, are the models that don't have straws built into them. Food gets trapped in them, and the sealing mechanisms to keep them from dripping can get pretty grungy. Simply put, a kids' water bottle should be easy to clean. Make sure your kids are well hydrated throughout the day. Parenting tip: Most of the time your child is hounding you for a snack, they are just thirsty.
10. Magnetic Dry Erase Board & Accessories
A magnetic dry erase board is essential. Some times you may need to help your child with some simple math and these come in handy. A wipe board is also a good surface for doodling without using too much of your printer paper. We like using them because we can write down the sequence of events for our boys' virtual learning day so they (and we) can remember what comes next.
11. Over-The-Door File Organizer
If you are setting up a home education station, there is a strong chance that you hadn't been planning on doing this all along. An over-the-door file organizer is a great way to add some storage without really having to move anything around. The hanging file folder is great for splitting up subjects, and your kid can reach the lower folders. It's also a good place for them to hide snacks, just saying.
Most of the kids' virtual learning day is tablet-based. If you have Facetimed or video called with a kid, then you know how many add angles the child will hold the screen at. For the school teacher's sanity, consider an adjustable tablet holder. A tablet stand will keep the device out of your kid's hands, thus preventing damage to the screen and motion sickness to the person on the other end of the video conference.