Add some Mediterranean flair to any dish with this Easy Balsamic Reduction recipe. This simple sauce is the perfect addition for salads, grilled meats, and even pizzas!
EASY BALSAMIC REDUCTION RECIPE
A few years ago, I was lucky enough to take a trip to the Mediterranean coasts of France, Monaco, and Italy. It was one of those "once in a lifetime" trips, where you get to tour a perfume facility and make your custom scent, and then drive around looking at rows and rows of lavender plants as if you were living in an impressionist painting. The water was clear as glass, and the locals seemed to be perpetually relaxed and welcoming.
As I strolled around a market area, I ducked into a shop that primarily sold locally sourced olive oils and bottles of vinegar. As luck would have it, they were providing samples to the shoppers. It was my first time trying a balsamic reduction, and the last time I looked at vinegar as just a stinky liquid people spill all over their fish and chips. There was a mellow tartness, followed by a smooth sweetness. The shop owner told me that sometimes the reductions can be so sweet that people will use them for a topping on ice cream!
As delicious as balsamic reductions are, and the seemingly high cost for a bottle, I decided to start making my own. It is an extremely easy process and has only two ingredients: balsamic vinegar and honey. A simple process for a delightful topping.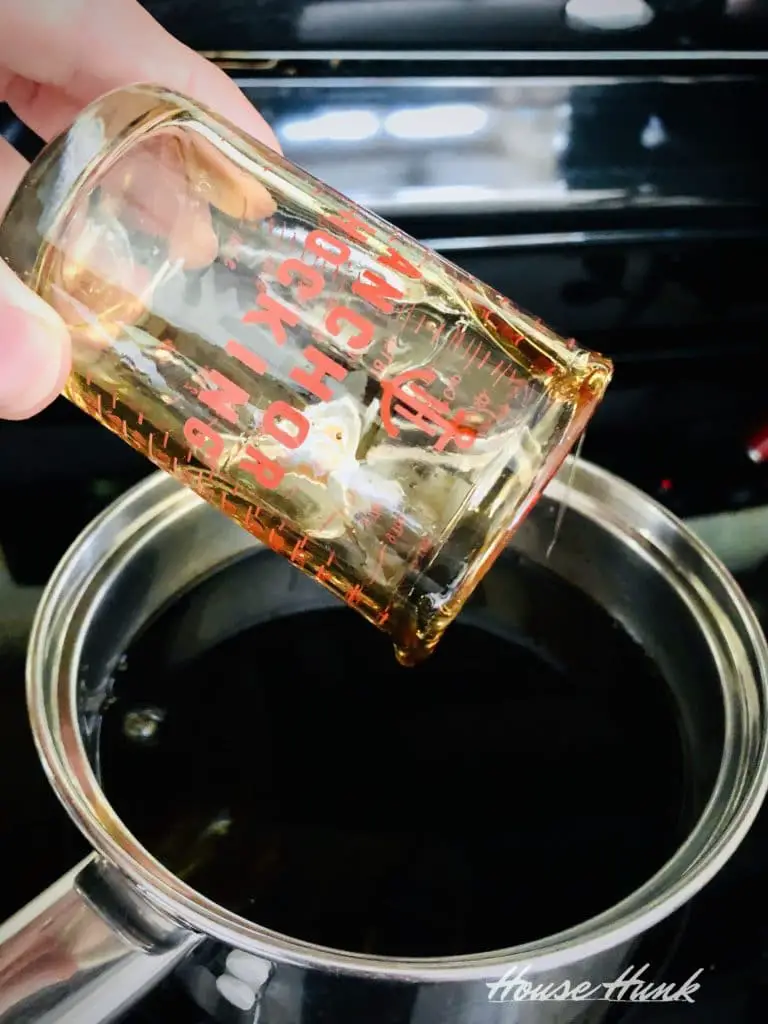 WHAT IS BALSAMIC REDUCTION?
Balsamic reduction is a thickened sauce made from balsamic vinegar and usually a sugar source, in this case, honey. Balsamic vinegar originates from Italy and is made from grape must. Grape must is a mixture made from crushing grapes, as well as their seeds and stems. The reduction is made by combining the sugar (honey) and vinegar and heating it, allowing a large portion of the liquids to evaporate, leaving behind a sweet, sometimes slightly tart, syrup.
WHAT DOES BALSAMIC REDUCTION TASTE LIKE?
Balsamic reductions tend to be on the sweet side of the flavor spectrum. You can taste the natural sugars found in the grapes and honey. You can also taste some vinegar qualities, however, good balsamic reductions lack the pungency found in most vinegar.
EASY BALSAMIC REDUCTION RECIPE INGREDIENTS
HOW TO MAKE THIS EASY BALSAMIC REDUCTION RECIPE
As long as you have a measuring spoon, a measuring cup, and a saucepan, you have all the tools required to make a good balsamic reduction.
In a saucepan, combine 2 cups of balsamic vinegar and 8 tablespoons of honey.

Over medium-low heat, bring to a very slight simmer. Use caution to not boil or burn the ingredients as you will most likely have to toss it out and start over.

Lightly simmer for 45 minutes, or until reduced to about half the original volume.

Allow it to cool completely. The reduction will still be relatively liquidy while hot but will thicken quite a bit once cooled. A cooled balsamic reduction should be similar in viscosity to honey, perhaps slightly thicker. You don't want it so thick that it can't be drizzled or squeezed through a plastic condiment bottle.

Once completely cooled, the reduction is ready for serving, or to be stored in an airtight container for future use.
IS BALSAMIC REDUCTION CONSIDERED HEALTHY?
The Mediterranean Diet is considered by many health organizations as one of the healthiest diets on the planet. Balsamic vinegar is a very common ingredient used in Mediterranean cooking, and there are quite a few health benefits associated with it, such as reducing hypertension and lowering blood sugar levels. Balsamic vinegar isn't a "wonder drug", but as far as dressings and toppings go, you could do a whole lot worse.
CAN YOU MAKE THIS REDUCTION AHEAD OF TIME?
Because this recipe is best served completely cooled, at room temperature, you can make this ahead of time. Vinegar and honey have some of the longest shelflives as far as liquid foods go. I like to make a batch of this and keep it in an old plastic honey bottle (however any condiment bottle will suffice) in my pantry for when the right dish might come along that could use a bit of a Mediterranean uplift.
CAN YOU FREEZE BALSAMIC REDUCTION?
I wouldn't freeze balsamic reduction. When you thaw it, the moisture profile will be all out whack, and you probably won't get it completely blended back to its intended form.
WHAT TO SERVE WITH BALSAMIC REDUCTION?
As I mentioned earlier, if you are using high-quality ingredients, balsamic reductions can be used as a topping on icecreams. But, where I find this recipe is the best is when I drizzle over:
Caprese Salad

Margarita Pizza

Grilled Chicken
WHAT KITCHEN TOOLS DO I NEED TO MAKE GRANOLA?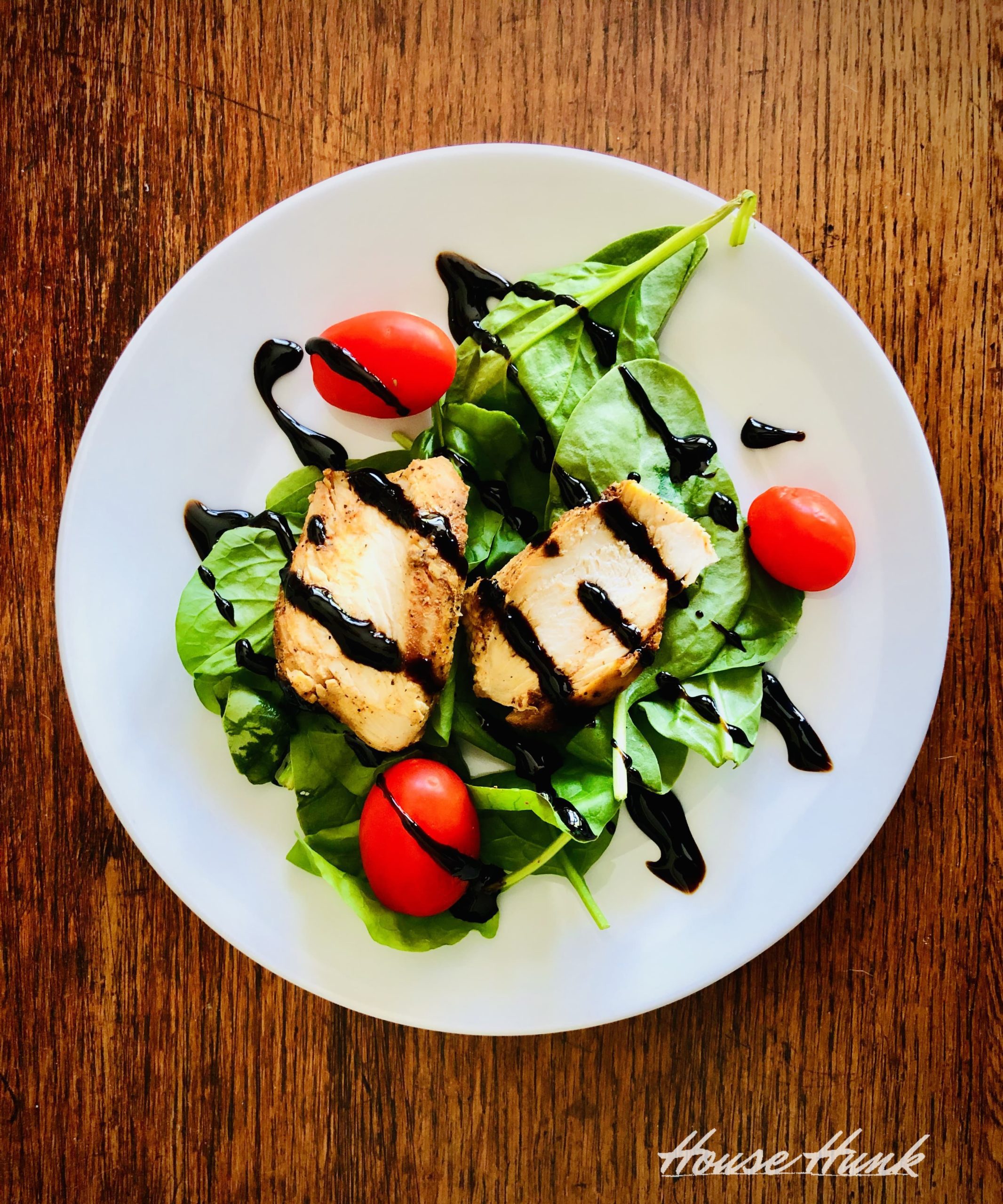 Servings:
20
2 tablespoons
Instructions
Combine balsamic vinegar and honey in a small saucepan

Over medium-low heat, simmer for 45 minutes or until reduced by about half. Use caution to not burn ingredients, as this is easy to do, and can ruin your reduction, and your saucepan.

Once cooled, you can serve, or transfer to an airtight container for future use.
Nutrition