Check out these mojito recipes for ways to adapt the traditional cocktail recipe; just make sure you have lots of fresh mint ready!
MOJITO RECIPES FOR MUDDLING MADNESS
Delicious mojitos are mixed drinks that often contain rum, mint, lime juice, sugar, and sparkling water. In particular, summer get-togethers and beach trips call for them because they're tasty, energizing, and ideal for every occasion. But who's to say you can't be a rule breaker and enjoy a mojito during, say, a Syracuse winter?
Speaking of breaking the rules. You don't have to, however, stick to the fundamentals when it comes to mojitos. There are many ways to change things up, whether you want to add some more sweetness or a fruity twist.
It is officially time to grab your mint muddler, and get ready for your mixology moment! These mojito recipes are waiting to satisfy!
A pleasant twist is given to the classic mojito recipe. Try making this Blackberry Mojito recipe this summer for a unique take on the traditional cocktail.
There is just a brief window of time to enjoy rhubarb straight from the garden, and life is too short not to find occasions for happy hour. Cheers to this recipe for a rhubarb mojito!
For your spring and summer celebrations, light and lively blackberry prosecco mojitos will become the popular beverage. Making this delicious cocktail is easy and it has a lot of flavor.
With rum, lime, dragon fruit, sugar, and mint, this stunning pink Mojito will wow the guests at the happy hour party.
A delicious and fruity variation on the traditional rum cocktail, the Peach Mojito is ideal for summertime or backyard gatherings.
Strawberries, lime, and rum come together perfectly in this delightful dragon berry mojito.
Summer is the ideal time to enjoy this Creamy Coconut Mojito recipe. It combines elements of a mojito and a pina colada. With a sugar-lime rim, cream of coconut is mixed with rum, lime juice, and mint. 
Pomegranate Mojito Cocktail: This delicious cocktail is full of good antioxidants and would be perfect for the holidays. Simple, sweet, and wholesome. 
This Blueberry Mojito will cool you off from the first sip thanks to the combination of sweet, juicy blueberries, tart lime, fresh mint, and a hearty splash of white rum!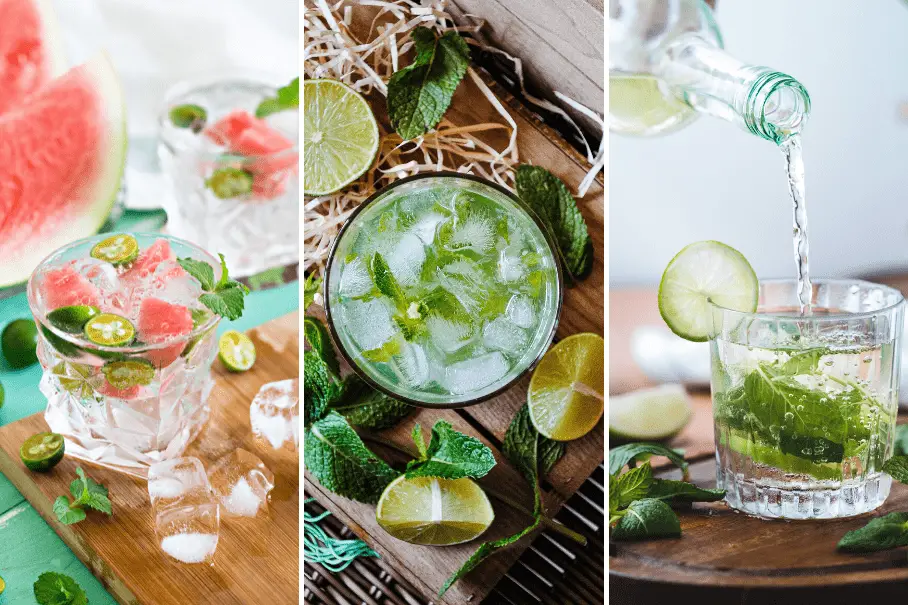 Instructions
Choose your favorite mojito recipe.

Gather all the necessary ingredients.

Prepare a delightful mojito recipe and enjoy!