Get ready to spice up your dinner routine with these ultimate fajitas recipes. From chicken to shrimp to pork, there's something for everyone!
FAJITAS RECIPES THAT SIZZLE
I don't know about you, but I love a good plate of fajitas. The sizzle, the spice, the flavor – it's all so delicious. That's why I've put together this collection of 19 mouth-watering fajitas recipes to help you take your dinner routine to the next level. Whether you prefer chicken, shrimp, beef, or veggies, there's something for everyone on this list. So, get ready to sizzle and spice up your dinner game!
If you've struggled with dry chicken breast in your fajitas recipes, I've got the solution for you! These chicken fajita lettuce wraps are bursting with juicy, flavorful chicken thanks to a simple trick that will revolutionize your cooking game.
Don't have much time but still want a delicious meal? Try my easy skillet shrimp fajitas recipe, which takes just 20 minutes and only requires one pan. The addition of a zesty avocado tomato salsa takes these fajitas to the next level!
Craving something cheesy and satisfying? Look no further than these chicken fajita quesadillas, featuring sauteed onions, peppers, perfectly seasoned chicken, and melty cheese sandwiched between two tortillas.
When you're short on time but still want to enjoy the flavors of summer, whip up these quick and easy grilled shrimp fajita packets. Packed with tender peppers and onions and perfectly seasoned shrimp, they're a tasty and healthy option for any weeknight dinner.
Looking for a keto-friendly twist on traditional beef skewers? Try these easy steak fajita kebabs, which are loaded with flavor and perfect for any summer barbecue.
Want to make the best steak fajitas ever? I've got a secret ingredient that will make your steak extra tender and delicious. Check out my recipe and prepare to be amazed!
Trying to eat more plant-based meals? These tofu fajitas are a quick and healthy option that's packed with protein and nutritious veggies. Plus, they're ready in just 30 minutes!
If you're looking for a way to use up leftover Thanksgiving turkey, try my Tex-Mex turkey fajitas. They're quick, easy, and bursting with flavor that the whole family will love.
Want a light and fresh seafood dinner that's ready in a snap? Try my easy fish fajitas, which are made on a sheet pan in just 20 minutes. Serve as is or add your favorite toppings for a customizable meal.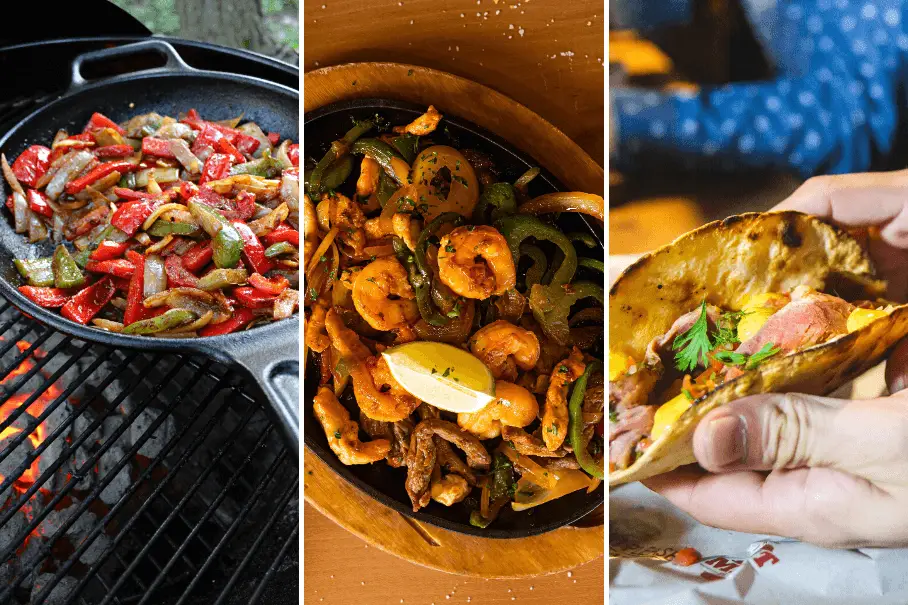 Instructions
Choose your favorite fajitas recipe.

Gather all the necessary ingredients.

Prepare a delightful fajitas recipe and enjoy!